Easyjet's brand colour might be orange, but if its radical new aircraft is anything to go by, the future is green for the budget airline.
The Airbus A320neo, showcased for the first time at Manchester Airport last week, provides a 15% savings in Co2 emissions and a 50% noise reduction during take off and landing thanks to its fuel-efficient engine.
MM enjoyed a tour around the exciting new jet, to find out what this means for the future of air travel – and the various benefits it brings.
Pilot Ross Harwood explained that the fan blades in the engine, which burns 15% less fuel than regular A320 carriers, sound proof the air going into its core, whilst a vortex generator blocks out the 'whine' sound.
To put this in simpler terms, (or as one cabin member joked), the plane is so quiet that 'the cabin crew have to be careful what they say in their seats now'!
Neo has been designed with local communities in mind, but the quieter plane offers benefits for passengers too.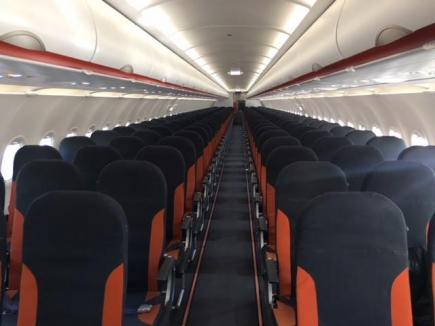 NEW DESIGN: The NEO has six more seats compared to the current A320
The carrier is fitted with 186 lightweight Recaro seats, which have a seamless design that make it feel less cluttered.
Passengers can now enjoy more – yes, MORE – legroom, as well as a sleek new tray that is perfectly sized for a tablet or Ipad.
The narrow-bodied Neo looks smaller from the outside, but its space-saving design has actually allowed six more chairs and one more toilet to be fitted onto the plane compared to current A320 aircraft.
Ali Gayward, UK General Country Manager of easyJet said: "Everything that we are doing is about being kinder to the environment, saving fuel and being better neighbours to those people around airports, whilst also making travel easy and affordable for everyone who wants to go away on business or on holiday."
One hundred of the A320neos will be in operation with easyJet by 2022, as well as 30 of the larger A321neos, which have 235 seats. 
The purchases are part of the company's long-term decarbonisation strategy as the aviation industry continues to expand.
Demand for air travel is expected to double by 2035, putting increasing pressure on airline companies to reduce their carbon footprint.
Although aviation makes up approximately 2% of greenhouse gasses it is one of the fastest growing sources of air pollution.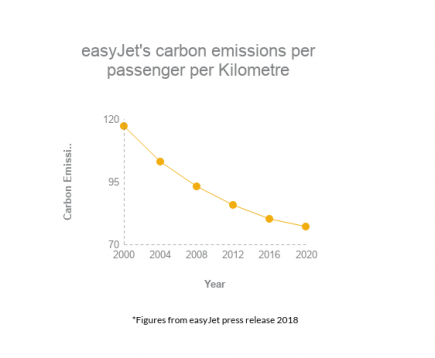 Estimates from the European Commission predict that by 2050, international aviation emissions could be 300-700% more than they were in 2005.
EasyJet has reduced its carbon emissions per passenger per kilometre by over 32% since 2000, and intends to cut this by a further 6% by 2022 through a number of initiatives.
One of those initiatives is a collaboration with Wright Electric – a US aircraft manufacturer developing a commercial passenger plane that runs on all electric batteries.
Ms Gayward said easyJet could be flying all electric planes within the next ten years for all short haul flights under two hours.
She added: "As aviation continues to grow our impact on the environment is really important.
"We are committed to sustainable growth. We believe that in the current cap there is still room for efficiency."