Just a few weeks ago Manchester Day festivities took place across the city centre after a two-year absence due to Covid. 
Thousands gathered along Deansgate in the city centre for the parade where 50 unique floats took part including a queen bee and bouncing babies. 
Little Amal, the giant puppet Syrian refugee who stole the show when she came to the UK in October last year, joined the celebrations as well, starting at Quay Street and making her way around the city centre. 
Music from a steel band filled the streets, while the drums of the British Pakistani Agricultural Society got the party started. 
Ahead of the celebrations, TalkTalk released the findings of its research into what makes Mancunians Manc, by looking at the top five uses for their bandwidth and asking them questions about what makes the city buzz.
Unsurprisingly, for a city that has produced a number of major acts including The Smiths and New Order, music came up trumps, with 71 per cent of those polled believing music is important to the city, while Oasis was crowned as the band that defines Manchester.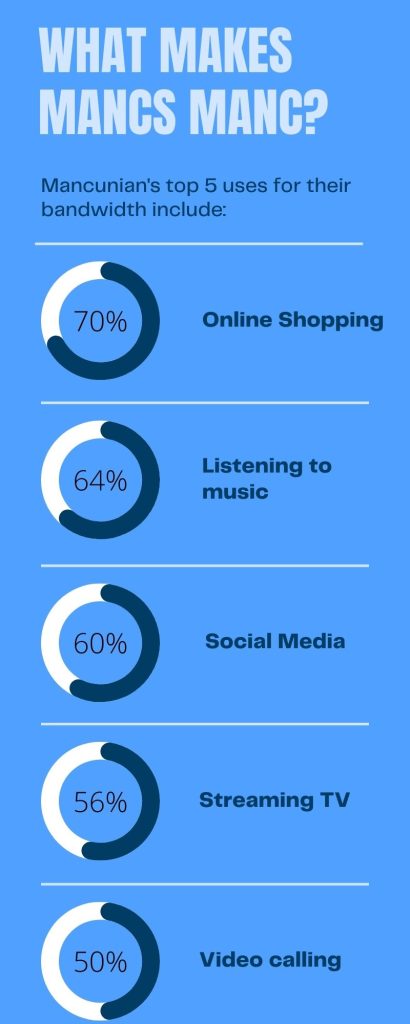 Research conducted by TalkTalk – which is headquartered in Manchester – also looked at Mancunian's top five uses for their bandwidth, with 2,000 UK surveyed about their internet consumption.
Online shopping accounted for for 71 per cent, while listening to music came in at 64 per cent, and social media usage came in at 60 per cent. 
Becki Smith, General Manager of Future Fibre at TalkTalk, said: "As a Greater Manchester-based business it's been interesting to find out what is currently at the heart of Mancunians.
"It's clear that locals' love of watching sports and streaming music isn't going anywhere so we're delighted to continue rolling out our ultrafast, ultra-reliable Future Fibre packages to keep up with Manchester's growing bandwidth needs."
The research also highlighted how important sport ranks for Manchester residents, with fifty six per cent found to be streaming sports daily.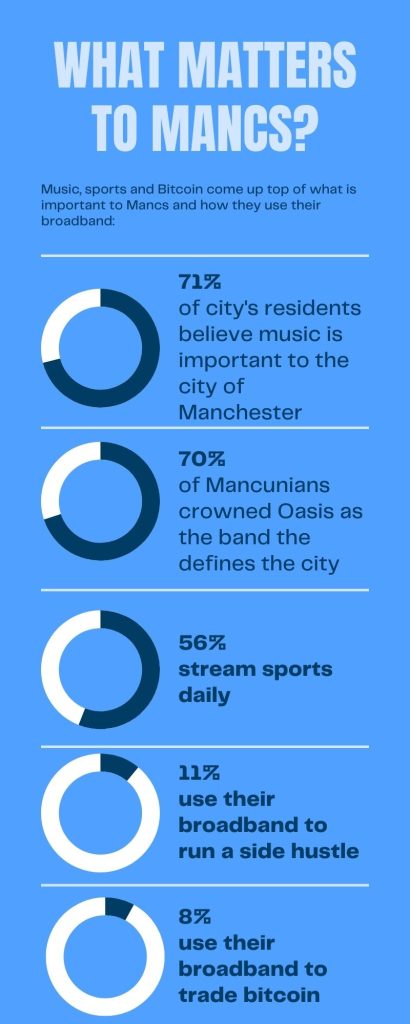 The findings were found to support network data from TalkTalk that saw internet usage figures soar during the Champions League semi-final with a record breaking 8.715Tb/s – roughly streaming 363 hours of HD video per second. 
Interestingly, the research also revealed Manc's entrepreneurial spirit as 11 per cent use the broadband to run a side hustle, and 8 per cent use it to trade Bitcoin. 
This tallies with separate research by Instant Offices conducted earlier this year, which named Manchester as the UK's most entrepreneurial city, with a 23 per cent increase in businesses registered in 2021. 
This meant that one company was registered per every 31 people living in the city, with ecommerce and real estate businesses saw the biggest boom. 
Using Company House data, the office rental company analysed the population to start-up ratio across the country's main cities to uncover the locations which saw the highest concentration of entrepreneurs in the last 12 months.