Four people were arrested yesterday as tens of thousands of people marched through Manchester City Centre in protest against the Conservative Party Conference.
Minor clashes occurred between police and a few dozen protestors, with police dogs and horses used to control small crowds outside the Midland Hotel.
The clashes came after Conservative delegates and journalists were spat at and subject to taunts of "Tory scum' by a small minority of protestors as they entered the conference.
But largely the protest was peaceful, with over 60 thousand people joining the demonstration against government policies and Greater Manchester police saying the 'overwhelming majority' had behaved with 'dignity and good grace.'
Thousands travelled from across the country to join the protests and Frankie-Rose Taylor, a 22-year-old marketing assistant, was just one to come from London to 'demand an end to austerity'.
Speaking to MM, she said: "Their policies leave the most vulnerable in our society at the bottom of the pile and are causing so much suffering to thousands up and done the country."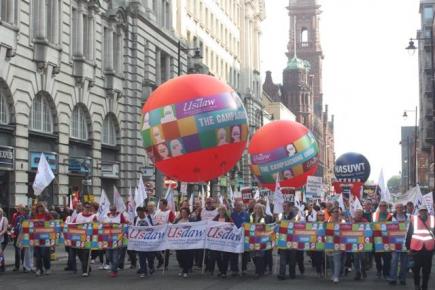 MARCH AGAINST TORIES: Rally assembles on Oxford Road
The march set off from Oxford Road shortly after 2pm, with Union representatives addressing crowds ahead of the demonstration, saying they would 'not back down' to the government's austerity programme.
Union leaders also warned that the Trade Union Bill, that is due to have its final reading in the House of Commons, was a 'direct attack' by government on the Unions and working people.
Andy Noble, a 51-year-old operation fire fighter and member of the Fire Fighter's Union, said the Trade Union Bill was a 'deliberate attempt by the Tories' prevent Union's organise against issues that could affect public safety.
He told MM: "One of the worst things we've suffered is the amount of job losses, the amount of stations that have been closed, the amount of fire appliances that are not available for emergency fire cover.
"The [government] would like use to have no ability to campaign and organise and try to defend those cuts and those jobs.
"And it's a deliberate ploy by them to minimise the effect that the Trade Unions in general can have."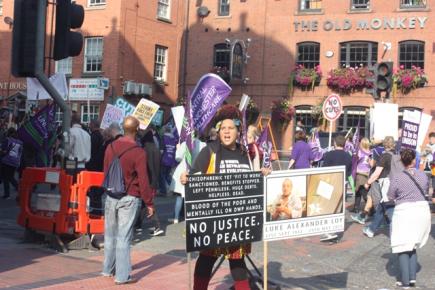 NO JUSTICE NO PEACE: Anti-Conservative protest on Portland St
The demonstration is part of The People's Assembly plan to 'take back Manchester' during the Tory Conference, with Jeremy Corbyn set to break tradition by addressing the Communication Workers Union during the conference.
The demonstration organised by the Trade Union Congress and People's Assembly was kicked-off with a performance from singer-songwriter Billy Bragg.
It brought activists together against a variety of issues, including cuts to public spending, NHS job losses and the refugee crisis.
Disability rights protestors were just one of the groups to highlight the impact austerity was having on people's lives, claiming the government directing it's cuts against most vulnerable.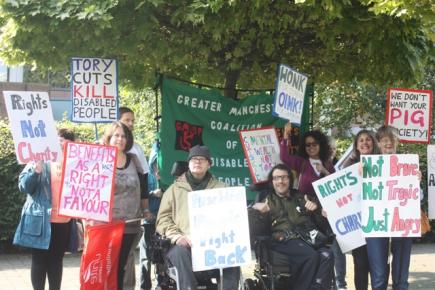 'WE DONT WANT YOUR PIG SOCIETY': Protestors make themselves heard
Richard Currie, a 34-year-old disability rights activist, said he opposed austerity because the government's 'neo-liberal policies' were having a negative effect of the lives of disabled people.
Speaking to MM, he said: "Disabled people have a right to live independently, a right this government has undermined. Disabled people have a right to a job, a right this government has undermined.
"Worst of all this government is just about to be investigated by a UN convention on human rights for people with disabilities.
"David Cameron claims to protect the poorest and most vulnerable within our society. Well I'm here today with thousands of others to tell you that is a lie."
Image courtesy of George Robbins, with thanks.