The Conservative Party conference in Manchester has been met with anger and protests in St Peter's Square.
The square was filled with armed police, protestors, and shouts of "Tories out!" during the conference at Manchester Central. 
Protestors included WASPI women, pro-EU and anti-abortion campaigners, and NHS supporters. 
James Sheeran, from Ireland, arrived at the square at 9 am to take part in a pro-EU protest. 
Mr. Sheeran, 60, told MM: "I'm Irish and so is my family. We're protesting the changes made to the Northern Irish protocol and our main aim is to protect peace in Ireland.
"We need to protect the Good Friday agreement so that things don't go back to the way they were."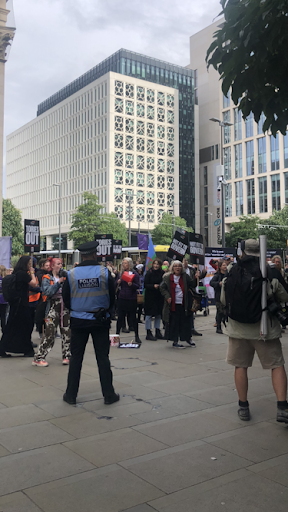 Kathleen, 55, from Bolton, was on her third consecutive day of protesting a number of causes in the wake of the conference. 
As a key worker in a supermarket, she has become disillusioned at the sight of empty shelves in the past few weeks.
She said: "I hate their smirks and their arrogance. They don't understand the people on the ground and they're so out of touch. 
"I've never seen such a pile of excrement and I'm spoilt for choice in these protests.
"There's the farmers, there's the WASPI women who have had their pensions taken away, and there's people here for the NHS.
"I just feel like shouting: you need trust in a government but they just don't care about the people."
Another bystander, who did not wish to be named, said: "All these political parties are as bad as each other."