A wide range of protesters can be seen outside this year's Conservative Party conference including anti-abortion organisations and Romany travelers, but pro EU activists continue to be unrivalled in their persistence.
The Tory conference, held from October 3 to October 6 at Manchester Central Convention Complex has seen ardent Remainers maintain their argument that Brexit has left Britain worse off.
Paul Truin has attended protests since the 2016 referendum and his motivation is deeply personal.
Mr Truin's wife is Finnish and his three grandchildren are French.
The 71-year-old said: "I used to protest against American cruise missiles in the UK in the 80s. Now I'm protesting Brexit".
Most of the reaction to pro-EU protesters has been positive but they have occasionally been subject to verbal harassment.
"[Some people] walk past and say that Brexit is over, that Brexit has happened."
Paul says he has no intention of giving up and plans on returning again on the third day of the conference.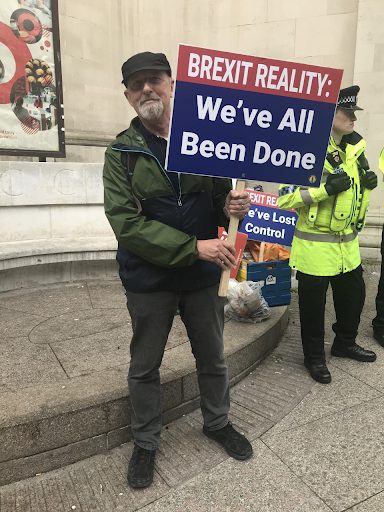 For others, protesting at the Tory conference is a more performative affair. 
An individual who wishes to remain anonymous dressed in Winston Churchill-esque clothes with a red clown nose to spread his anti-Tory message.
The activist said: "The Conservative conference happens every 2 years, alternating between Manchester and Birmingham. They would probably say they want to reach the majority, but to me personally it's a provocation.
"The Tories know that Manchester is not Tory and that the city voted Remain. So they are coming to flaunt their money."
He told Mancunian Matters that he lost his job teaching English to foreign students as a direct result of Brexit.
"The vote happened on the Thursday. The school closed over the weekend due to Brexit and I lost my job on the Monday."
He now stands as a governor for a local primary school in Salford where he says that there is a serious problem of malnutrition among young pupils.
"Families are having to choose between food and heating. People are dying because of the Tories."