Russell Brand visited a Harpurhey youth centre yesterday – their second high profile visit in under 12 months.
The comedian, actor and author Brand made a visit to The Factory Youth Zone as part of a nationwide launch for his new children's book. 
The Queen made a royal appearance to view the facilities last November. 
Welcomed by a crowd of around 70 young people, Brand took the time to take lots of selfies with the young people and spoke to many of them individually. 
He stayed to ensure all young people who asked for autographs got them before rushing off to make another live appearance at the Lowry theatre.
Shannon, a member of the Youth Zone, said: "It's dead exciting that he has come to visit. First the Queen and now Russell Brand! It's really good these people are coming to visit Harpurhey."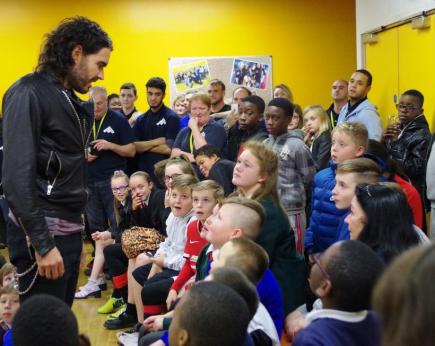 NOT BRAND NEW: Russell has reworked a classic – the 'Pied Piper of Hamelin'
Brand's reworking of the classic 'Pied Piper of Hamelin' is the first in a series known as the Trickster Tales. It is the first time Brand has ventured into the world of children's literature.
Reading from his new book, Brand gave the young members of the Youth Zone the opportunity to hear exclusive snippets before it is available for general release on November 6.
You can find out more about The Factory Youth Zone here.