It's none of our business. I don't want to get involved. It's not my place. She won't leave him anyway. What good will calling the police do? Men can't be victims of abuse!
These are statements so commonly bandied about as facts when the conversation turns to domestic violence. We tell ourselves they're true out of fear and a lack of awareness.
But here are the real facts – around 2.1million people across the UK will become victims of domestic abuse EVERY year.
While it is an issue that affects more women – 1.4million a year – it still impacts an awful lot of men – 700,000 a year.
Seven women every month are killed by a current or former partner and every year 100,000 men and women are at high and imminent risk of being murdered or seriously injured as a result of domestic abuse.
Ippo Panteloudakis, Operations Director at domestic violence helpline Respect, told MM: "There is a lack of awareness about how many victims of domestic abuse there are in general, male and female.
"This makes it harder for all victims to feel listened to and believed.
"Domestic violence tends to be associated with female victims still and this makes it harder for men to accept themselves as abused and then talk to someone about it."
Maybe it is time once and for all to put a stop to the fear of getting involved or the 'if I say anything it won't make a difference anyway' attitude – time to replace the statements born out of ignorance with two others.
End the fear. Break the silence.
Campaigns to raise awareness of domestic abuse and the support available for victims have been going strong for years in a bid to encourage those suffering at the hands of a violent partner to report these horrific crimes.
But now Greater Manchester Police is pushing this one step further to get third parties – family members, friends, neighbours, or witnesses – to speak up and report suspected domestic abuse.
Taking inspiration from the three wise monkeys, the see no evil – hear no evil – speak no evil campaign – featuring video, posters and leaflets – was launched today to encourage people across the region to help protect victims in abusive relationships.
Detective Chief Inspector Nicky Porter, from GMP's Public Protection Division, said: "It is important that the wider society understand their responsibilities to help us tackle this horrific crime and protect those who are at risk.
"You could potentially save a life.
"Domestic abuse is a terrible crime and can affect victims in ways that aren't always visible. Very often they are left feeling isolated and alone and no one should have to endure this kind of suffering.
"We know of regular incidents of domestic abuse where family members or neighbours say they knew something was going on, but didn't want to interfere.
"We also see cases where lives have been saved because a neighbour, upon hearing a disturbance, has contacted us about it.
"We want members of the public to know that from the moment the police receive a call, steps are taken to safeguard and protect potential victims.
"We have a whole range of options at our disposal to help us do this."
The campaign comes after recent domestic homicide reviews found that victims were more likely to report incidents of abuse to friends and relatives, rather than to police.
People may also witness or suspect abuse within their jobs, as neighbours, or colleagues – and it's these people that may be able to help GMP release a victim from the grip of an abusive relationship.
Mr Panteloudakis explained why it is so crucial to tackle the 'it's nothing to do with me' attitude a lot of us are guilty of, saying domestic violence is 'everyone's business'.
He said: "It is important to encourage everyone to break the silence. Domestic violence has been seen a 'private matter', it shouldn't be.
"It's everyone's business and in everyone's interests to speak out – as long as it's done in a way that's safe for the victims."
For many who are fortunate enough to have never been trapped in an abusive relationship they simply cannot understand why the victim doesn't leave their partner.
People often feel that if they were in his/her shoes they would just walk out.
A friend or loved ones failure to do so can breed frustration and make people less willing to intervene.
But Mr Panteloudakis explained that it really is not a simple case of 'they won't' leave and more often that victims feel 'they CAN'T' leave.
He said: "It is understandable that victims are disempowered and as a result they cannot make the decision to leave an abusive partner.
"It's also a matter of where to go; not everyone has options.
"With fewer refuge spaces overall and not enough alternative accommodation available people think twice or they may end up homeless.
"Also, a lot of victims stay for the sake of their children."
There are so many different types of abuse – physical, verbal, psychological, economic – and unless people are victims of physical violence at the hands of their partner they can often feel their problems aren't big enough or serious enough to speak out about. But they are.
"A lot of victims associate domestic violence with physical violence, underestimating the impact of other types of abuse," Mr Panteloudakis told MM.
"They need to feel reassured that if they tell someone about it they will be taken seriously and professionally.
"Listen, be patient and don't try to persuade the victims to do anything they're not ready to do."
So don't think because you haven't heard crashing and banging through the walls or because you haven't seen any bruises you shouldn't help your neighbour or loved one and call the police.
If your friend's partner has taken control of their finances in order to manipulate them and control their comings and goings or if your sister or brother is being verbally degraded and broken down it is time to report it.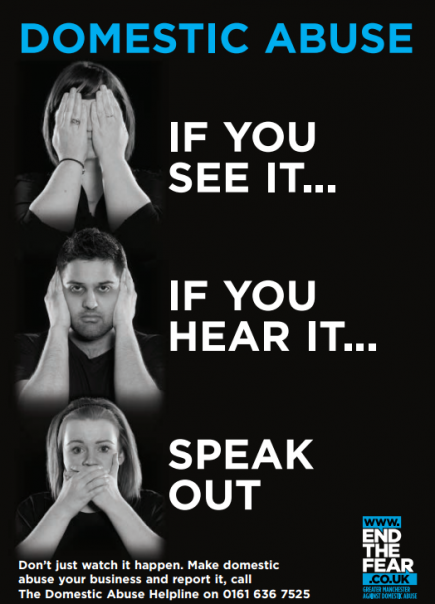 END THE FEAR: Greater Manchester Police have launched the see no evil – hear no evil – speak no evil campaign
Deputy Police and Crime Commissioner Jim Battle said: "This campaign is a call for each and every one of us to speak out against domestic abuse – a crime that has a devastating on victims and their families.
"You might think you're getting involved in things that aren't your business or you're not sure how you can help, but many people suffer in silence for years.
"By being aware, looking out for your loved ones and neighbours, and reporting domestic abuse, you can help break that silence and save the life of a loved one and rescue their children from a lifetime of misery and violence."
Mr Panteloudakis explained that victims of domestic violence will find it very hard to trust a new partner.
He said that 'many victims use harming coping strategies' such as drugs, alcohol and self-harm to deal with the trauma they've experienced.
And, while more awareness and more people reporting domestic abuse to the police could put an end to this lifetime of torment for so many, for the helpline director the buck doesn't stop there.
He said: "What other initiatives are being put in place? What will the police do with third party reporting if the victim her/himself doesn't feel safe reporting to the police? How will police officers deal with all that if they haven't had specialist training?
"Prevention work is needed, including education around healthy and sexual relationships.
"Perpetrators need support to stop. A harsher sentence means nothing if the perpetrator gets our prison to go back to the victim and abuse her/him again or start a new relationship and is abusive and violent again.
"More help is needed for victims who haven't reached the 'high risk' threshold yet.
"A lot more training is needed for statutory agencies and more accountability for their work."
For more information call the Women's Domestic Abuse Helpline on 0161 636 7525 or go to www.endthefear.co.uk for information on how to stop abuse.
You can also report incidents to Greater Manchester Police on 101 where you can ask to be transferred to the specialist domestic abuse unit. In an emergency and where there is a threat to life always dial 999.