Two Manchester drivers who smashed into a car killing a young couple while racing their Audis in a deadly game of 'cat and mouse' have been jailed for nine years.
Carl Wood, 27, from Farnworth, near Bolton, and Steven Ward, 25, from Swinton, were racing up to 100mph down the main East Lancashire Road when their black high performance cars ploughed into a Vauxhall Corsa.
The Corsa's driver Aaron Jones, 19, and his girlfriend Amy Hobson, 22, a mother of one who were returning from a day out at the seaside were  hit side-on at 97mph by one of the cars' and suffered multiple fatal injuries in the enormous impact.
Aaron died at the scene whilst Amy, who was in the front passenger seat, was rushed to hospital but shortly died.
In a statement Amy's parents, Janet Hobson and Karl Riley, said: "Amy was a wonderful mummy to her three-year-old son who was never seen without a smile on her face no matter how she was feeling.
"Amy didn't only leave her son behind she left behind her two sisters, her brother and her two nephews who she adored.
"We sit there waiting for that one text or phone call to ask us if we will go and pick her up. Amy was the most loving, caring and happiest daughter anyone could ever have.
"The family relationship we all had was a metal chain that no matter what happens, no one will break us."
In the run up the smash Wood and Ward were said to have been jumping red traffic lights, jostling for position, wheel spinning and duelling at road junctions and at the moment of impact witnesses talked of a 'horrifying screech of brakes' then 'three bangs and dust flying up.'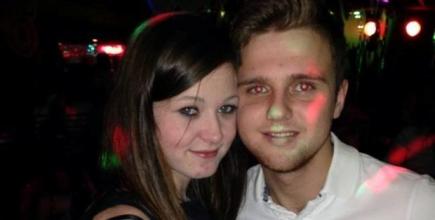 'POINTLESS AND PREVENTABLE': 'Wonderful mummy' Amy and her boyfriend Aaron lost their lives due to Ward and Wood's reckless actions
At Manchester Crown Court, the pair both admitted two charges of causing death by dangerous driving and were each jailed for nine years. Each were also banned from driving for nine years. Both now face being sued for damages by the victim's families.
The tragedy occurred at 5pm on Sunday, June 22 in Swinton, near Manchester after up to 200,000 people celebrated the city's annual Manchester Day carnival.
Mark Kellet prosecuting said: "Both cars were driving aggressively and competitively, overtaking and undertaking other cars at high speed and racing red lights.
"Some of the witness describe the defendants passing through these junctions while the lights were showing red, others describe them going through as other cars are slowing down, and some witnesses describe them stopping but accelerating hard when the lights turn green."
Witness Alexandra Nicholson said the two cars raced passed her at 80mph and caused her car to 'rock.'  A second witness said she saw one of the cars 'spinning its wheels' as it accelerated away from traffic lights and added: "It was all so pointless and so preventable. Both drivers were racing…it felt like they were competing against each other."
Adam Frankland said: "They passed by me with only one or two second gap between them. They were weaving in and out of traffic – going for every possible gap."'
Lee Limb said: When the lights turned green, the S3 at the front set off at speed as if trying to get a head start. The Rs3 also set off at speed, travelling from the outside lane to the inside to undertake cars in front. The speeds must have been between 80-100mph."
Aaron was driving his Vauxhall Corsa along the opposite carriageway, with Amy in the front passenger seat after a day out at Southport. 
Aaron moved to the right hand lane to turn right into Barton Road but a he began the manoeuvre the two Audis sped through the junction, with Ward's car ploughing into the passenger side of the Corsa.
The Corsa was hit with such force that it was pushed down the eastbound carriageway towards Manchester.
The S3 then spun and hit Wood's Audi, catapulting it further up the road. Amy, who has a three-year-old son, was given CPR in the road and taken to Salford Royal Hospital but died despite attempts to save her.
Wood spoke to officers at the scene and said: "He just pulled out in front of me. Is she alright?, is she going to be alright?" Both he and Ward who was left dazed, with cuts to his head, hand and leg had a string of previous motoring convictions.
After the case PC Neil Pennington, of Greater Manchester Police said: "Two young lives have been snuffed out in the blink of an eye by the arrogant, reckless stupidity of Ward and Wood.
"Such was their delight in their pathetic game of one-upmanship they were paying no attention whatsoever to other road users.
"Their dangerous driving led to them smashing into the car of two young people who were simply going out socialising. As a result they will now have to live with the considerable guilt of this tragic incident for the rest of their lives."