Leaving the car in the drive and getting on your bike has numerous benefits if you're living in Greater Manchester.
From health, to economic to environmental benefits Mancunians are reaping the rewards of taking to two wheels.
The average number of cycle journeys recorded across four different survey points along the Manchester cycleway which opened in 2016 rose by 86% from 960 in March 2015 to 1791 in March 2017.
In Greater Manchester cycling prevents 29 early deaths and averts 414 health conditions annually saving the NHS in Greater Manchester £2.8 million.
Cyclists save 86p for each mile cycled instead of driven and 21,098 tonnes of greenhouse gas emissions are saved each year from cycling, the equivalent to the carbon footprint of 4,489 people.
Chris Boardman, whose 15-point plan 'Made to Move' was delivered to Andy Burnham, Mayor of Greater Manchester, last month and aims to get more people in the city cycling.
By getting people to swap four wheels for two the former Olympic gold medallist is on a mission to transform Greater Manchester into a world class cycling region.
After unveiling his vision for town hall leaders, Boardman said: "I've told them how much it will cost – £1.5bn over 10 years – and I wouldn't say they haven't flinched but they know it's a necessity and it's not a case of can we do it, but how we do it so it's an exciting time."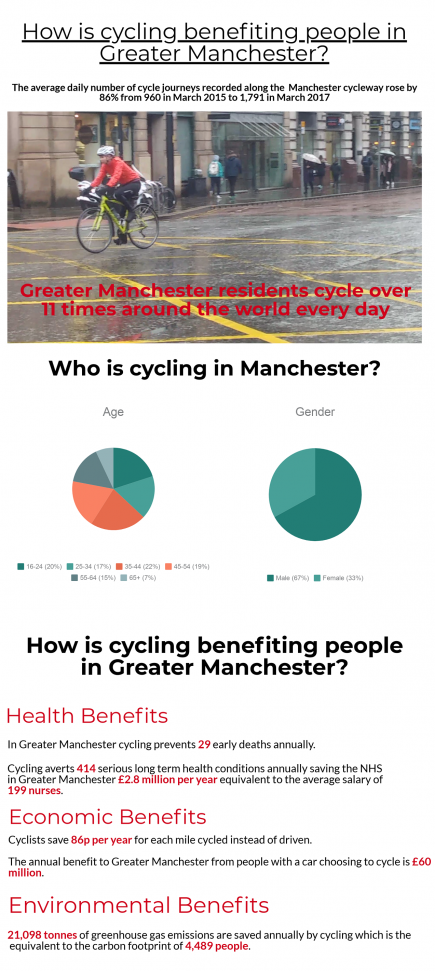 Burnham said he and the 10 council leaders across Greater Manchester were ready to rise to Boardman's challenge.
"Investing in cycling and walking will not only improve the air that we breathe, it will help tackle our crippling congestion problem and improve our health, wellbeing and environment," said the Mayor.
MM spoke to cyclists in Manchester city centre about how the numerous benefits cycling can bring.
Byron Wigglesworth, 22-year-old student has been cycling in the city for two years.
"It's probably the best city I've ever cycled in," he said.
Nigel Rose, 56 who uses a bike to get around the city said: "It's the best, easiest, cheapest, healthiest and better for the environment way of getting where I need to go."