Like something straight from the pages of a novel, a man was imprisoned in a cage for 13 hours on the heart of Manchester Piccadilly train station yesterday.
But the attention-grabbing display was to promote the new supernatural thriller Half Bad and to mark World Book Day in the UK.
The book, which is the first part of a planned trilogy, follows protagonist 'Nathan' who starts the story locked up in a cage.
Manchester commuters shared the station with a caged and shackled actor to help bring the story to life from 6am until 7pm.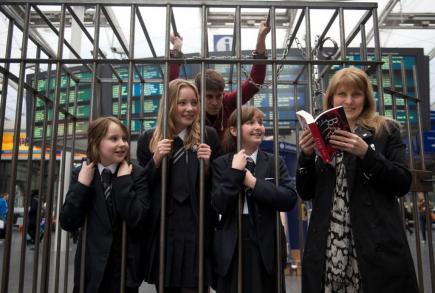 LOCKED UP: Sally Green proudly holding her book, Half Bad
(Image courtesy of Jon Parker Lee, with thanks)
Author Sally Green visited the station and read excerpts from the novel and signed copies for schoolchildren from her hometown of Warrington.
Sample chapters and discounts on the book were on offer, while 100 copies were up for grabs for anyone who quoted the word 'witches'.
Ms Green said: "I was delighted to bring the launch of my book to my nearest city of Manchester on World Book Day.
"It's been a whirlwind of a journey that started last year with film rights being optioned to Fox and deals in 45 languages.  It's all so new to me and I just don't know what to expect."
Green's debut novel looks set to smash sales records after it launched on Monday March 3 immediately rocketing to the number one spot on Amazon's children's books chart.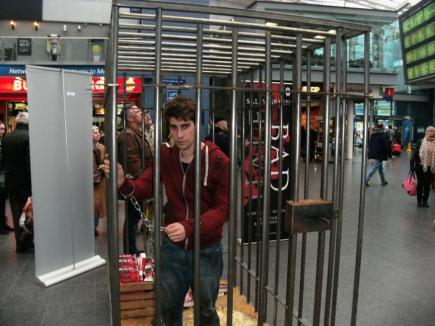 LOOKING GLUM: Caged man looks down in the dumps
And the author visited the station with Warrington schoolchildren in aid of today's UK date for World Book Day.
Film rights have also already been snapped up by Fox Pictures with Twilight saga producer Karen Rosenfelt at the helm.
North-west-based Green has travelled to the US to meet with Rosenfelt to discuss the film adaption, which is in pre-production and is yet to receive a set release date.
Deals to release the book in 45 languages have been agreed even before a page had been turned in a move publisher Penguin described as 'unprecedented'.
 "It's been a bit of a fairytale publishing story," explained a spokeswoman for the novelist.
Investment company owner Bill McFall, 50, was one of the passers-by at Piccadilly Station yesterday.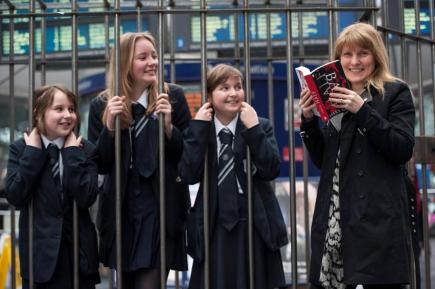 HELP US: Author reads a passage of the book with the caged kids
(Image courtesy of Jon Parker Lee, with thanks)
He said: "I think it's a fantastic way to promote a book. The guy (in the cage) looks happy but I'm not sure he's too convinced he's selling many books! But it is definitely an intriguing way to promote a book.
"It makes me more interested to see what the book is about.  Will I buy it? I don't know until I see if I am interested because no one has told me that much about it yet.
"I think anything that is interactive with the public is good way to promote anything so yeah I think it's a good idea."
Green is currently working on the second book in the series.