With Manchester's famous National Football Museum announcing that the legendary 1966 World Cup exhibition is moving to Wembley, there's still time to visit up north.
On display are the official Jules Rimet trophy (pictured below), certified replica kits and even atmospheric videos of the historical tournament, bringing to life the rich exhibition much to the excitement already of football-mad Mancunians.
The museum always had an agreement to move the exhibition back to Wembley by the end of April, therefore there is an encouragement from the organisers to any football fanatics to get down to the museum and experience the summer of '66.
Museum assistant Aaron Royle told MM: "It has definitely been one of our most popular exhibitions. A lot more people have come to see it compared to others in the past."
One female visitor told MM of her exhilaration towards the popular showing.
"It is really exciting to be up close to the real 1966 trophy, and we are really glad they have had it in Manchester for a while."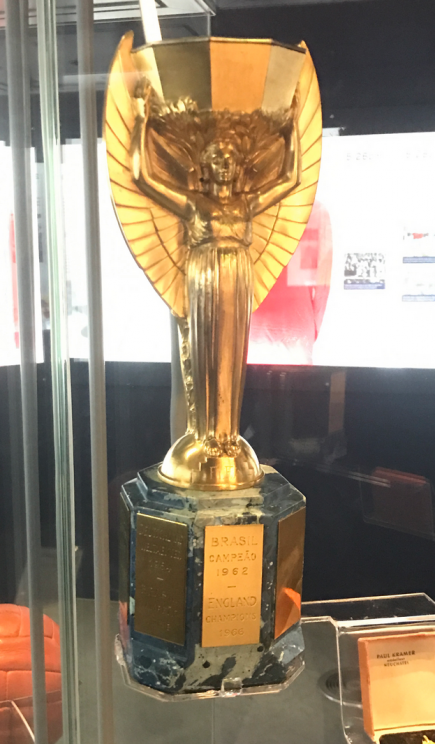 EVER CHANGING: The National Football Museum, displaying the Jules Rimet trophy (above), is proud of the variety of its exhibitions 
As the museum is run primarily through donations made by the public, it is certainly crucial for the organisation to attract repeat visitors by any means possible.
Royle was however confident that the loss of the showing would not affect the number of visitors and donations made.
"Most people tend to donate as they come in, and the donation bundles are also great deals."
Other important factors which keep attentions high at the museum are the ever-changing exhibitions on display.
"The museum does in fact have various different showcases over the years, with the best ones focusing on the traditional aspects of football," added Royle.
"Part of the reason we get repeat visitors is because of the new and changing exhibitions."
Just been to the @FootballMuseum for the first time with the kids. Different class. Two 6yr olds. Spent most of the day there 

— Sam Matterface (@sammatterface) April 6, 2017
One new feature already being planned is the replacement of the '66 exhibit in the 'Changing Exhibition' floor of the museum with a collection of tributes to Brazilian striker and one of the greats of the game, Pele.
The museum has however not finalised what it will feature.
It is certainly an exciting prospect, and the aforementioned female visitor also expressed her elation to the up-and-coming ideas for the displays and what the museum may have in store.
"We are looking forward to seeing new concepts here, it never gets boring!"      
Click here http://www.nationalfootballmuseum.com/whatson/1966 for more information or to donate: http://www.nationalfootballmuseum.com/donate