Demonstrations continued in Manchester over the Easter weekend as protesters call for parliament to 'kill the bill'.
Local organisations came together to speak at St Peter's Square on Friday, April 2 and again on April 3.
Stood at the entrance steps of Central Library, protesters rallied for an end to the proposed Police, Crime, Sentencing and Courts Bill sponsored by Home Secretary, Priti Patel.
The recent protests come after Greater Manchester Police made 18 arrests in March when demonstrators blocked tram tracks in the city centre.
Protesters at Saturday's gathering voiced their concerns over the new bill, citing new policing powers that could serve to crack down on peaceful protests.
Demonstrations continue
Members of the group Stand Up to Racism Manchester took turns to speak through a microphone, calling the bill "an attack on working class and underrepresented people."
Organisers said the first demonstration on Friday was a test to see how police would react after arrests were made at a protest on March 27.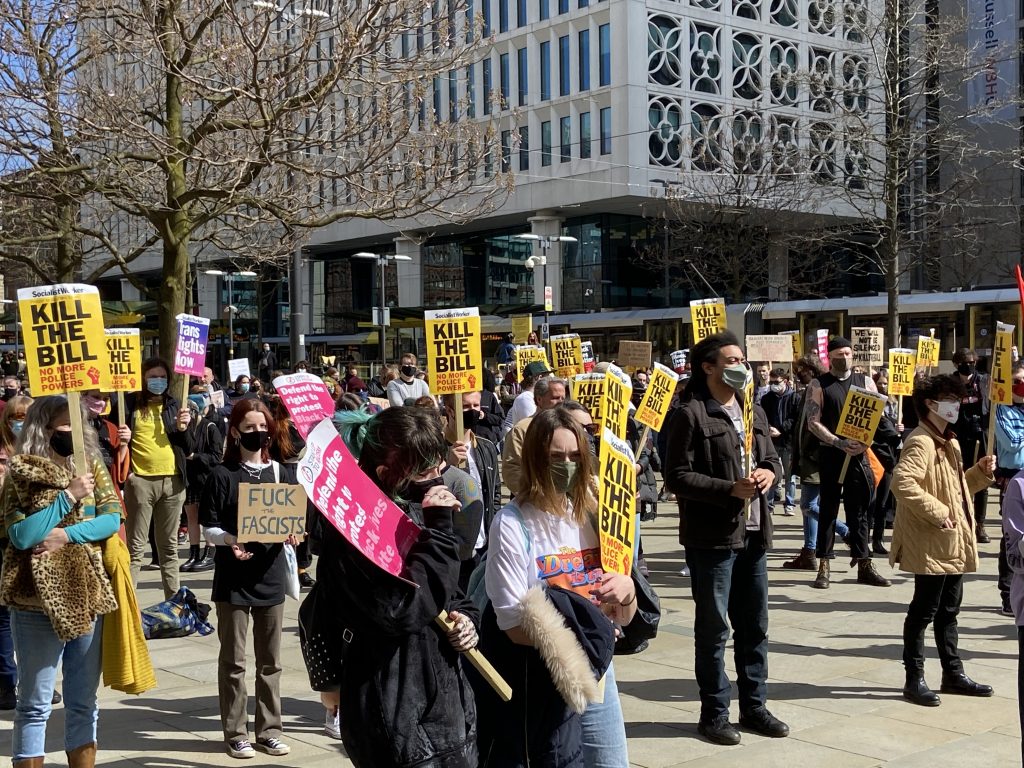 The following day, around 400 people turned up in the city centre to rally against the government's new bill.
One man was arrested on suspicion of offences unrelated to the protests and following enquiries to verify his identity, he was subsequently de-arrested.
Chief Superintendent Wasim Chaudhry of GMP's Specialist Operations Branch said: "GMP, alongside partners, had been closely monitoring the demonstrations that took place in Manchester City Centre and appropriate plans were in place to ensure minimal disruption was caused to the wider public.

"Although large numbers attended, the majority of the demonstration passed by with minimal disruption and dispersed without issue enabling people to peacefully get their point across. Following this, a small minority remained in St Peter's Square and began to behave irresponsibly by causing a disruption to the Metrolink services."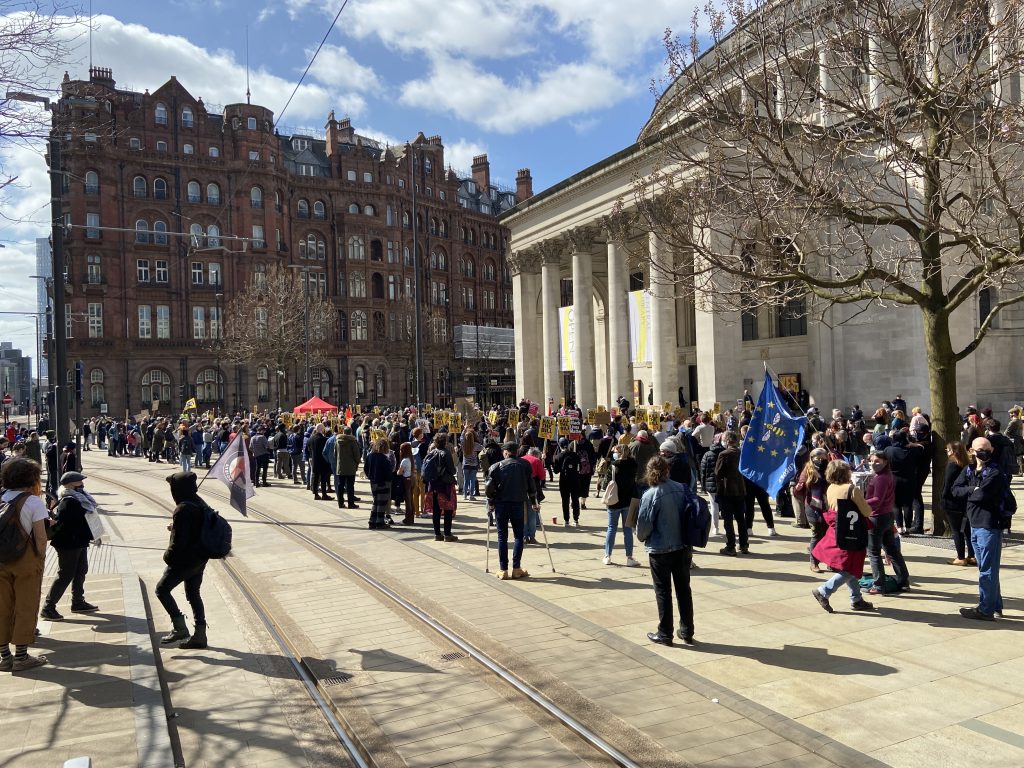 They continued: "This type of behaviour creates a risk to these people as well as anyone trying to resolve the situation. Officers were deployed to minimise disruption and ensure that members of the public were able to safely continue their journeys through the City and get home."
Right to protest
Demonstrators shared growing concerns over the proposed bill's approach to protests.
One attendee said: "There won't be a future of protest if this bill passes. This is our moment to do something. If we don't, no one is going to stand up and do it for us."
Another protester added: "I think people just need to speak up, if we just keep being compliant about stuff then nothing will happen."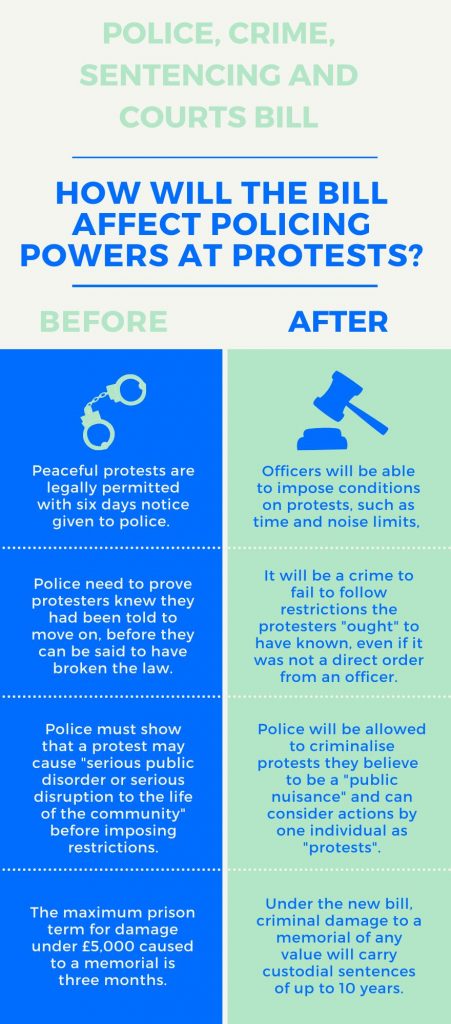 The government says the majority of protests in England and Wales will be unaffected by these changes and the right to freedom of expression will not be undermined.
Changes to the law
The Police, Crime, Sentencing and Courts Bill will introduce many changes to current laws including tougher prison sentences on child killers and drivers who kill behind the wheel.
The bill will also enable to the police to clamp down on organised protests, with officers being given powers to enforce start and end times and noise limits.
Under this legislation, protesters could also see themselves jailed for up to 10 years for causing 'serious annoyance' during a demonstration, a phrase which protesters argue is too broad.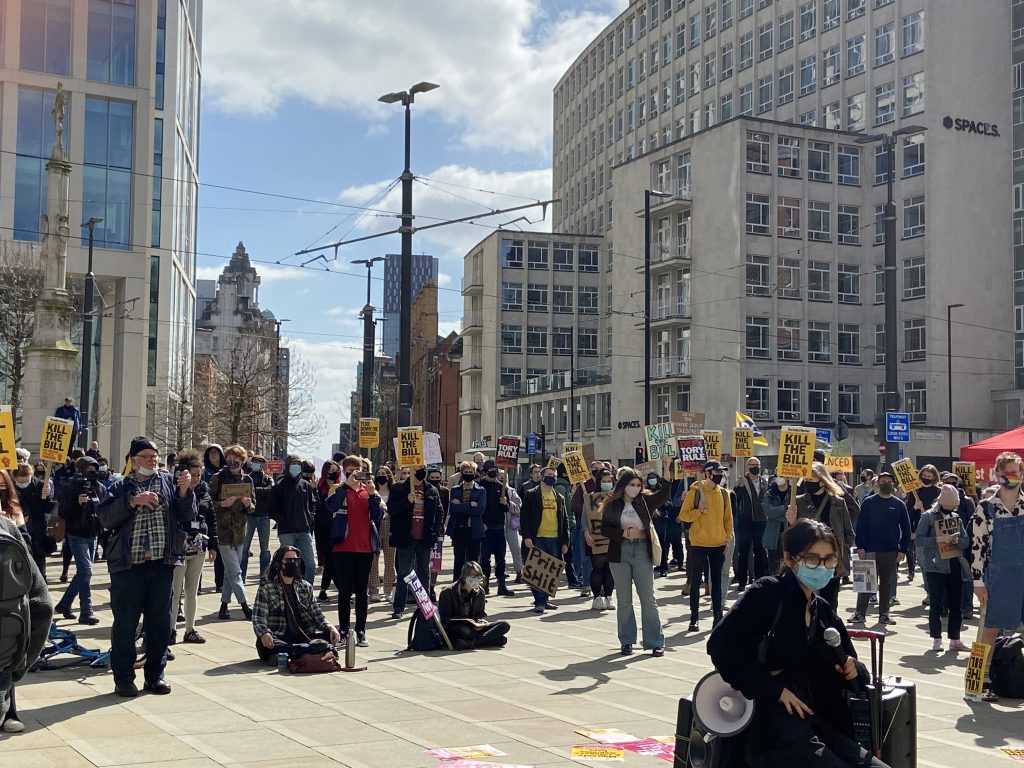 Criminal barrister, Caroline Baker, who deals with protest law, said: "The bill definitely lowers the bar and limits people's right to protest. I think the most vague and difficult part of the act is that it introduces penalties for protesters who cause serious annoyance and it's for the police to decide what serious annoyance means.
"Do we really think that giving the police wide-sweeping new powers, that are vague in what they mean and allowing them to define them and exercise their own judgement, is actually going to help them police things more effectively?
"It seems to me as a lawyer that you can almost hear the legal argument in years to come on what serious annoyance is and what particular conduct amounts to it.
"In theory, this bill passing could land you 10 years in prison, that's double so many other serious offences. I very much hope that it doesn't pass in its current state."
The proposed changes in the law has led to further protests across the country but, despite backlash, the bill passed its second reading in parliament last month.