Manchester revellers condemned an 'offensive and sexist' tweet to customers offering free entry and a drink to a teen club night event if they tweeted a picture of their breasts.
A tweet from the Twisted Tiki Twitter account, read that students could get free entry to the event, hosted at Lola Lo tiki bar at Deansgate Locks, if they submitted pictures of themselves.
It read: "Send in pictures of your boobs for free entry and drinks ! Go."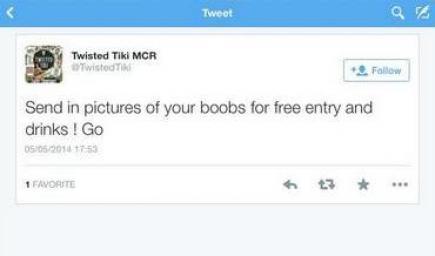 The tweet, originally posted at 5.53pm, was swiftly deleted after outraged Twitter users RT-ed and MT-ed the message and questioned its taste.
Charlie Hooson-Sykes, who tweets under the name The_Lady_Sybil, tweeted: "WTAF??? RT @TwistedTiki: Send in pictures of your boobs for free entry and drinks ! Go"
WTAF??? RT @TwistedTiki: Send in pictures of your boobs for free entry and drinks ! Go

— Charlie (@The_Lady_Sybil) May 5, 2014
Her retweet racked up a number of angry responses and saw the original tweet flagged up to the Everyday Sexism Project which catalogues sexism experienced on a day-to-day basis.
Twitter user @livelifelaught slammed the message, and said: "[It's] playground mentality of it being cool to ask for photos of boobs #notcool"
However some people saw the lighter side of the message, one Twitter used said: "I wonder if they would like some eqal ops hairy moobs?"
Event promoter, James Turner, is one of three people who ran the account.
He told MM that there had been a falling out with one of the @TwistedTiki account holders which had resulted in the un-named man leaking the password on toilet doors and by word of mouth.
The Manchester promoter said: "This has been going on for eight weeks, we have had to delete tweets that were put up, but after last night when my phone had so many notifications coming through we decided that was enough and took the decision to delete the account, but it takes up to 24 hours."
James helped out with the marketing side of things for the club night, including leaflet design and organising the guest list, for four weeks to gain experience in the field after university.
He added:" Personally I wasn't very happy [with the tweet]. That's why there haven't been many tweets from that account in the last eight weeks."
The Twitter account has since been disabled.
Sales and Marketing Manager of Lola Lo Manchester, Jen Wragg, said: "Lola Lo Manchester has not been working with Twisted Tiki promoters for a little over four weeks, and the night is no longer held here – meaning this tweet in no way originated from anyone working at Lola Lo.
"Nonetheless, we are very sorry if any of our customers were offended by it."
Picture courtesy of Fabric via Wikiepedia, with thanks