Labour remains in control of Oldham council following yesterday's local elections, but loses its council leader for the second year in a row.
In one of Greater Manchester's biggest shocks of the elections, the North's first ever female Muslim council leader Arooj Shah lost out to Conservative candidate Robert Barnes in the Chadderton South ward by just 96 votes.
Of the 60 council seats, 20 were up for grabs yesterday.
Overall, it was a disappointing result for Labour in Oldham, losing five seats and gaining just one.
The Conservatives and Liberal Democrats now have nine seats each, both up one seat from the previous election.
Elsewhere, the Failsworth Independent Party won two seats, bringing their total up to five.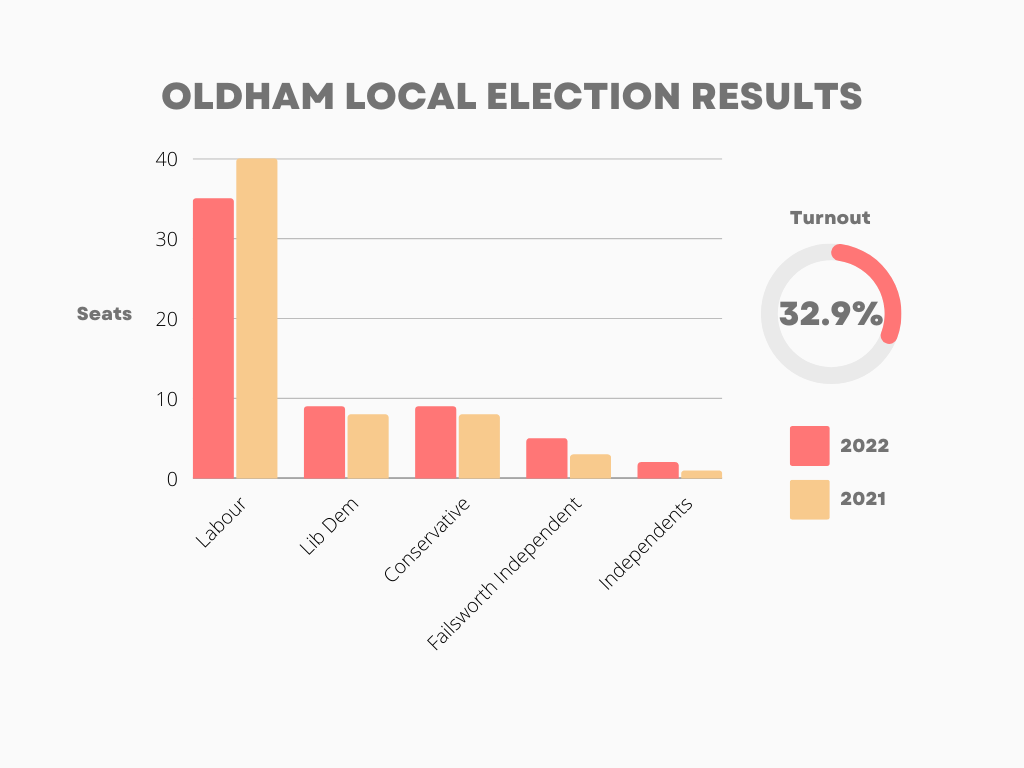 Ward-by-ward results
Alexandra Ward
Andrea Chaverra Valencia (Green) 172
Martin Alexander Dinoff (Lib Dem) 264
Shaid Mushtaq (Lab) 1401
Chadderton Central Ward
Barbara Ann Beeley (Lib Dem) 153
Cath Jackson (NHUKO) 145
Jess Mahoney (Green) 130
Colin McLaren (Lab) 134
Sharif Miah (Con) 818
Chadderton North Ward
Barbara Susan Brownridge (Lab) 1546
Moudud Ahmed (Con) 1027
Daniel Clayton (Green) 173
Katie Gloster (Lib Dem) 165
Chadderton South Ward
Robert Barnes (Con) 1197
Joe Beeston (Lib Dem) 244
Arooj Shah (Lab) 1101
Coldhurst Ward
Montaz Ali Azad (Ind) 2075
John Hall (Lib Dem) 132
Abdul Malik (Lab) 1868
Michele Stockton (Con) 195
Crompton Ward
Syed Maruf Ali (Lab) 377
Phelyp Bennett (Con) 617
Chelle Moore (Proud of Oldham & Saddleworth) 307
Dave Murphy (Lib Dem) 1353
Failsworth East Ward
Marzia Babakarkhail (Lab) 722
Lucia Rea (FIP) 1502
Lynne Christine Thompson (Lib Dem) 88
Failsworth West Ward
Sandra Ball (FIP) 1390
Peter Davis (Lab) 973
Keith Pendlebury (Lib Dem) 68
Hollinwood Ward
Karen Barton (Lib Dem) 151
Maqsood Hussain (Con) 313
John Lawrence (NHPOPF) 174
Jean MaryStretton (Lab) 1,010
Rob Vance (NHUKO) 67
Medlock Vale Ward
Mark Douglas Birchall (Proud of Old' & Sadd') 604
Lewis Farnworth (Lib Dem) 289
Sajed Hussain (Lab) 2128
Brian Lord (Lib Dem) 102
Umar Nasheen (Lab) 2069
Tuhin Rahman (Con) 343
Kaiser Rehman (Con) 670
Royton North Ward
Paul Francis Goldring (AFDAF) 79
Lewis Quigg (Con) 1222
Hannah Jane Roberts (Lab) 1033
John Keith Swift (Lib Dem) 152
Lina Valencia Shaw (Green) 93
Royton South Ward
Marie Ann Bashforth (Lab) 1039
Anne Margaret Fiander-Taylor (NHUKO) 67
Jeff Garner (Lib Dem) 124
Anthony Joseph Prince (Ind) 103
Jim Stidworthy (Green) 119
Gary Tarbuck (Con) 967
Saddleworth North Ward
Pam Byrne (Con) 1292
Joshua James Charters (Lab) 867
Gary John Kershaw (Proud of Oldham & Saddleworth) 527
Mick Scholes (Lib Dem) 334
Saddleworth South Ward
Helen Louise Bishop (Ind) 468
Kevin Dawson (Lib Dem) 673
John Douglas Fay (Lab) 819
Simon Hodgson (Proud of Oldham & Saddleworth) 302
Chris McManus (Con) 1192
Saddleworth West and Lees Ward
Jonathan Hesketh Ford (Con) 303
Alicia Claire Marland (Lib Dem) 1379
Ghazala Rana (Lab) 407
Paul Shilton (Proud of Oldham and Saddleworth) 1102
Shaw Ward
Hazel Gloster (Lib Dem) 1030
Marc James Hince (Proud of Oldham & Saddleworth) 928
Dion Antony Terence Joseph Linton (Lab) 453
St.James Ward
Joe Gloster (Lib Dem) 111
Amoy Lindo Crooks (Proud of Oldham and Saddleworth) 322
Tom Lord (Con) 807
Leanne Joy Munroe (Lab) 866
Roger Pakeman (Green) 82
St.Mary's Ward
Roger Blackmore (Lib Dem) 203
Miranda Meadowcroft (Green) 140
Shefur Miah (Con) 168
Ali Umar Aqeel Salamat (Lab) 1896
Waterhead Ward
Riaz Ahmad (Lab) 1350
Linda Dawson (Lib Dem) 245
Lynne Kovacs (Con) 435
Paul Taylor (NHUKO) 241
Werneth Ward
Shoab Ahmad (Lab) 1350
Mohammad Riaj Dawson (Lib Dem) 245
Kovacs (Con) 435
Pat Taylor (NHUKO) 241