Harry Potter fans across Greater Manchester can now step into the shoes of their favourite witches and wizards and ride the iconic Hogwarts Express across the Yorkshire Dales later this month.
The legendary train is set to embark on a magical journey making stops in Manchester, Bolton and Wigan.
Red vintage carriages hauled by former Great Western Railway 4-6-0 steam locomotive No. 5872 will carry passengers from Carnforth to York and back again, giving them a unique opportunity to travel in the same carriages as Harry, Ron and Hermione.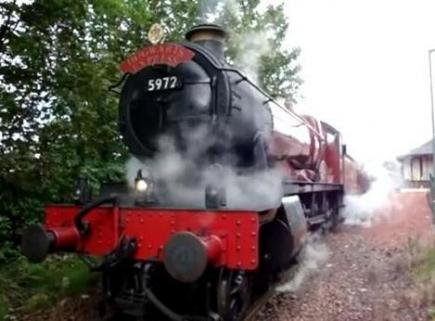 ICONIC: Hogwarts Express (Image courtesy darekgdansk of via YouTube, with thanks)
But this unique magical unique experience by the Railway Touring Company could cost a muggle family of four £500. 
Mum-of-three Samantha Williams from Cheadle told MM:  My kids love Harry Potter, they're obsessed but there's no way I could fork out 500 quid to jump on the Hogwarts express.
"It's a great idea but I don't think they've understood that the majority of true Potter fans wouldn't be able to afford that type of money."
Splashing out £507 to ride the Hogwarts Express will allow a family of four, consisting of two adults and two children, to indulge in a full English breakfast, a light lunch and a four-course silver served dinner at their table.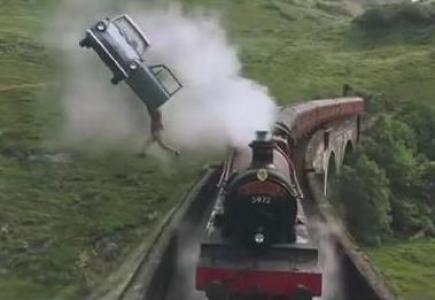 CLOSE ENCOUNTER: Harry, Ron and their flying car meet the school train
A First Class ticket costing £325 includes a morning coffee with a Danish pastry, afternoon cream tea and a selection of finger sandwiches.
Standard family tickets, that reserve your seat usually at a table of four, cost £177.
Dad of two Lewis Burrows, Atherton said. "I guess spending just under £200 on a trip isn't too bad it's just a shame you have to pay so much more for the extra touches to make it a memorable one."
Student Maria Nagyova from Rusholme said: "I'm a huge Potter fan, the thought of riding the Hogwarts express in insane but that price is ludicrous, £500 is just too much.
Former policewoman and grandparent, Ruth Linham from Salford said:  "I think it's a fantastic idea. Yorkshire has such a beautiful landscape and from what the Touring Company are offering, it seems that you do get value for money whether you're spending £200 or £500.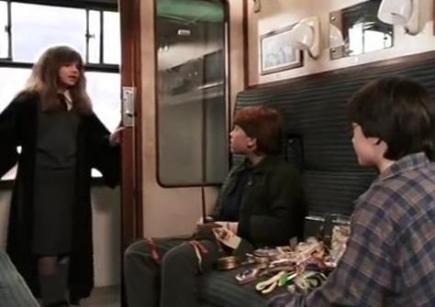 INFAMOUS: Hogwarts Express was the first place the magical trio met
"It's all about the experience and fun factor. It's definitely something I'd treat my grandchildren to."
The train won't be departing from the mysterious platform nine and three quarters, but instead will embark on its Yorkshire Dales tour from Manchester Victoria station on July 12.
Once the train leaves Manchester at 7.20am it will stop at Bolton, Wigan North Western, Preston, Lancaster and Carnforth to collect more Harry Potter and train enthusiasts.
Single adult tickets are £69 while junior tickets are priced at £39.
For more information visit the Railway Touring Company's website here. 
Images courtesy of Warner Bros. via YouTube, with thanks