A dog found in a 'terrible condition' by Salford wardens after suffering cruel abuse at the hands of her owners has become the inspiration for the very first Dogs in Salford Festival after making a full recovery.
Twinkle, an 18-month old Shar Pei crossbreed, was found on the balcony of a flat in the cold, wind and rain just before Christmas. 
She had been used as bait to train fighting dogs, had hypothermia and was very close to dying.
But thanks to the care of vets and Rochdale Dog Rescue, whose aim is 'Rescuing Dogs from Death Row to find a loving home', she is now back to her former self and is on the look-out for new owners.
Coryn Shields, a carer from Rochdale Dog Rescue, told MM: "Twinkle was in a terrible condition.
"She had been at the vets for four days before she came to us, so she was a little better.
"Her appearance was awful and she was so emaciated. She had to wear coats because she was so cold.
"But when they were taken off, some of the girls were really upset. They couldn't look at her."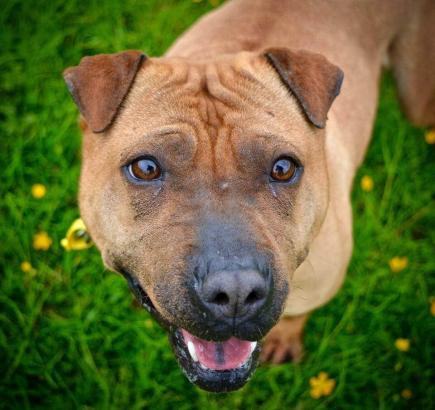 TWINKLE IN HER EYE: The Shar Pei was lucky to survive death
Ms Shields described Twinkle as a 'very friendly girl' and explained that 'everyone who meets her falls in love', but she also provided some insight into the difficulties of rehousing their dogs.
"There has been no interest. It has been difficult to rehouse her as she doesn't get on well with other dogs because of her past," she said.
To honour the work of Rochdale Dog Rescue, Salford City Council's dog wardens have organised the Dogs in Salford Festival at Clifton Country Park on Sunday 26 July between 11am and 3pm.
Speaking of the upcoming festival, Mrs Shields praised the organisers: "The Salford wardens are brilliant."
Dog owners are encouraged to enter their canine companions in a competition which will be judged on the day to help find winners in various categories, such as the 'waggiest tail', 'prettiest girl' and 'best handler under 12 years old'.
There are also trophies and rosettes for the most handsome boy, best scruff and golden oldie – for dogs aged seven years and older.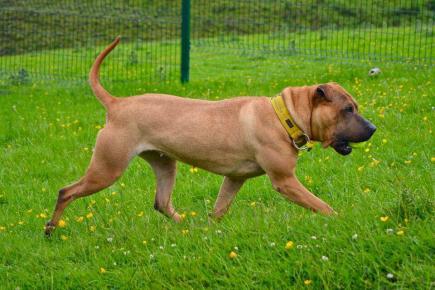 EVERY DOG HAS ITS DAY: Twinkle's recovery inspired Dogs in Salford festival
Councillor Ann-Marie Humphreys, Assistant Mayor for Culture, Leisure and Sport at Salford City Council, said: "As a nation of dog lovers it is a heart-warming story to hear that Twinkle has recovered and is looking for a new home.
After seeing the negative stories of dogs like Twinkle, Mrs Humphreys highlighted the significance of the festival.
She said: "Our first ever dogs festival promises to be lots of fun for all the family and help promote responsible dog ownership.
"It is also a chance to say thank you to the thousands of people who provide information to our dog wardens which helps reunite lost dogs with their owners and help keep dangerous breeds off our streets."
Vets will also be present on the day to microchip dogs and give them health checks, completely free of charge.
HMP prison dogs will put on a special dog display, demonstrating how they use dogs to catch criminals and sniff out drugs, cash and weapons.
You can find out more information about Dogs in Salford festival by clicking here.
You can find out more information about offering a dog like Twinkle a new home by clicking here.