A record-breaking number of successful, life-changing and saving kidney transplants have been carried out by the Renal Transplant Team at Manchester Royal Infirmary (MRI).
The previous national record of 32 transplants was also outdone in May when 41 patients got new kidneys and again in June, when a further 35 patients received organ transplants.
MRI is one of the largest renal transplant centres in Europe and provides continued support and care for hundreds of adults and children throughout the UK.                                 
As well as recently being recognised as the most productive transplant centre in the country, it is renowned as one of the safest and most efficient.
Clinical Director of the MRI Transplant Centre Titus Augustine said: "This major spurt in activity and continued level of performance is an achievement which reflects the ongoing dedication and commitment of our multidisciplinary transplant and retrieval teams over many years.
"Kidney transplants transform the lives of patients who may have endured years of dialysis.
"The more transplants we can perform, the more individuals we can continue to help and improve the quality of their lives."
The hospital has the largest list of patients waiting for kidney transplants in the UK – it currently stands at 998 and it can take up to five years to receive treatment.
During the last financial year more than 1,300 people on the national waiting list either died or became too sick to receive a transplant whilst still on it.
Because of this plans have been put in place to further develop the transplant programme in Manchester to increase the number of transplants that can be performed.
It is seen as vital to plan for a rise in transplant numbers as both the waiting list and demand for treatment continues to grow.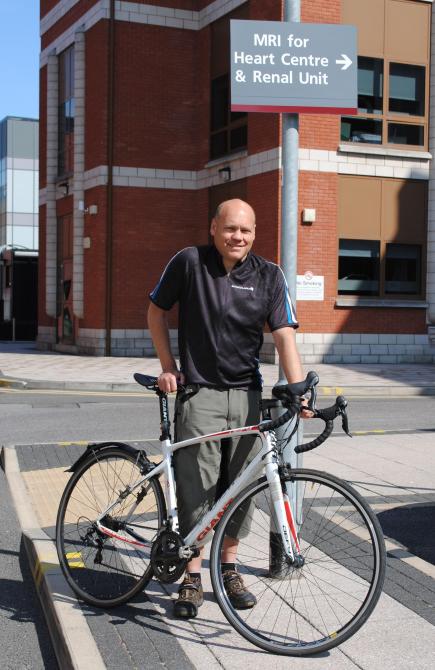 NO BANANAS! Now Adrian's had his kidney op he's back to his energetic self, he just has to watch his potassium levels
An example of the crucial work MRI completes can be seen through the story of 45-year-old Adrian North.
Battling diabetes from the age of nine and being insulin dependent for 35 years meant that Adrian had learnt to cope well with his condition.
However, three years ago, his illness worsened and he developed kidney trouble.
After receiving the devastating news that he only had five years left to live, a transplant was Adrian's only viable option and he was put on the waiting list.
After following MRI's advice and deciding on a double organ transplant, Adrian waited just 12 months for the organs to become available.
After his successful, seven-hour-long surgery he remained in hospital for a month where he was cared for and monitored by MRI staff.
After fortnightly and then monthly outpatient check-ups Adrian was then discharged and returned home, where he has now resumed a healthy and normal life.
He said: "The transplant has made such a big difference to my life, not only for me personally but for all of us as a family.
"I've much more energy – before the transplant, I was tired all the time.
"I'm no longer diabetic and can eat a normal diet, although I have to watch my potassium levels so no bananas!"
He has nothing but praise and gratitude for MRI, who have enabled him to return to work and even resume his love of cycling.
"Everything at MRI worked like clockwork – from my pre-operative care to the surgery itself, then the aftercare in intensive care, the high dependency unit and on the ward," he added.
"The team do so many transplants they've got it off to a fine art."
The donors themselves, who make the selfless decision to donate their vitals when they are no longer in need of them, are critical to the hospital's efforts.
Adrian said: "I'm so thankful to the family of the donor for this new lease of life.  By joining the organ donation register, you too can change and save someone's life."
Original main image courtesy of Google Maps, with thanks.