Over the next few weeks the People's History Museum in Manchester will be home to a dazzlingly colourful Sylvia Pankhurst bee in commemoration of her work with the suffragette movement.
The large sculpture, which has been sponsored by UNISON Manchester and UNISON North West, is the work of Manchester based artist Anna Mullin, who is more commonly known as Sneaky Raccoon.
PHM is buzzing with @beeinthecitymcr visitors! We're proud to be hosting 5 Little Bees created by @CheadleHulmeSch @OurLadysPri @RScottPrimary @firsprimarysale & Prospect Vale Primary School & one Big Bee created by @SneakyRaccoon. Can you find them all? https://t.co/r0X4GStKwJ pic.twitter.com/7ya7UOTeJi

— People's History Museum (@PHMMcr) July 24, 2018
"I've always admired women and individuals such as Sylvia Pankhurst for their work in creating positive change for future generations," says Anna.
Sylvia bee is suitably located in the entrance foyer of the museum, where she is surrounded by the museum's many stories about the development of democracy in Britain.
Thank you to Cathy and @BBCRadioManc for interviewing me live on the radio this morning about my @beeinthecitymcr #Sylvia bee @PHMMcr  #manchester #beeinthecity #bbcradiomanchester pic.twitter.com/LqC0TuvJwn

— Sneaky Raccoon (@SneakyRaccoon) July 28, 2018
This year the museum are celebrating 100 years since the Representation of the People Act of 1918, which gave most men and some women the vote.
However, their current project Represent! 100 Years On focuses on those who are still fighting for a voice today as well as those who have campaigned for representation in the past.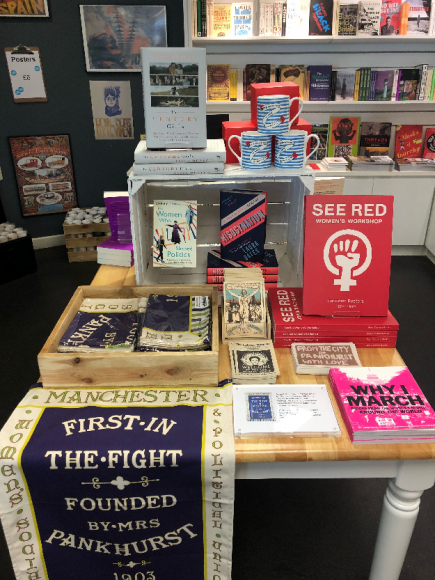 The bee design references the suffragette dress and features the movement's iconic colour scheme: purple representing loyalty and dignity, white for purity and green for hope.
Sylvia Pankhurst was the main visual designer behind the bold colours and branding associated with the Suffragette campaigns and so Mullin was compelled to pay homage to this historical context in her design.
Liz Thorpe, who acts as Learning Officer at the People's History Museum, told MM: "By using those colours as a branding technique, the Suffragettes were quite ahead of their time. They were doing something that even the men in politics weren't."
She believes that Sylvia Bee is an educational tool, as people of all ages can interpret its historical context from a visual perspective as well as appreciating the creativity of the design.
"When educating young people we often look at how we can interpret things visually and we almost see the objects as artwork. This sometimes makes it easier to relate to."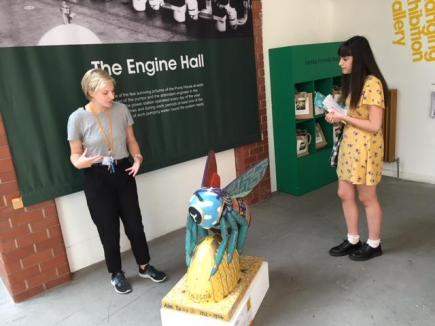 BUZZIN': MM's Hannah (right) chats with Liz Thorpe of the People's History Museum
Not only is Sylvia Bee a celebration of the life and work of Sylvia Pankhurst, but the museum interpret her as a stimulus to thinking about inequality in today's society.
"At the museum it's not always about the history, it's about the relevance today.
"The bee can also make us feel empowered because it teaches us that ordinary people like ourselves were capable of making such a positive change and that we can do the same. It's quite special," says Liz.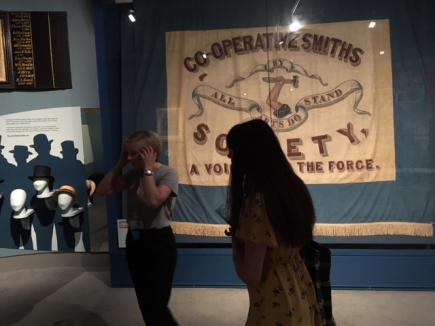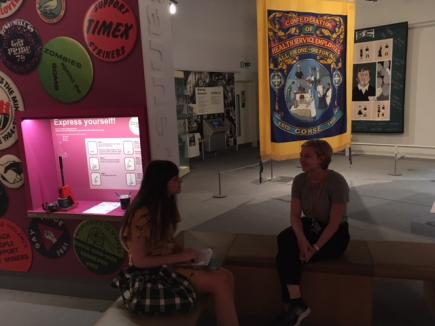 To celebrate its involvement in Bee in the City, the museum will be holding a free Family Friendly workshop this Wednesday, giving children a chance to create their very own clay bee to take home.
If you would like to find out about visiting the museum, visit phm.org.uk.