Kurdish protesters flooded Manchester calling for intervention against Isis after the terrorist group closed in on the Syrian town of Kobani.
Isis raised its black flag on a building on the outskirts of the Syrian town near the Turkish border on Monday after an assault that has lasted almost three weeks.
The Islamist extremist group has been battling to take control of Kobani after seizing much of the surrounding territory in northern Syria and Iraq in recent months.
Yesterday, Kurdish protestors swarmed to Piccadilly Gardens, Manchester, to call for greater intervention.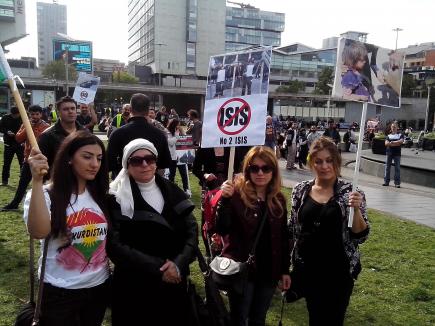 TAKE A STAND: Protesters gathered in numbers to demonstrate against Isis
"We came here to protest Isis and the Turkish government because they are helping Isis," said Hersh Mamag, 49, who moved to Manchester in 2008.
"Isis have surrounded Kobani and there are about half a million civilian people inside. And the Americans and everybody else are just watching. They do nothing.
"Now if Isis control any city, especially Kurdish ones, they kill all the people, they rape the women. So that's why were came here to protest Isis."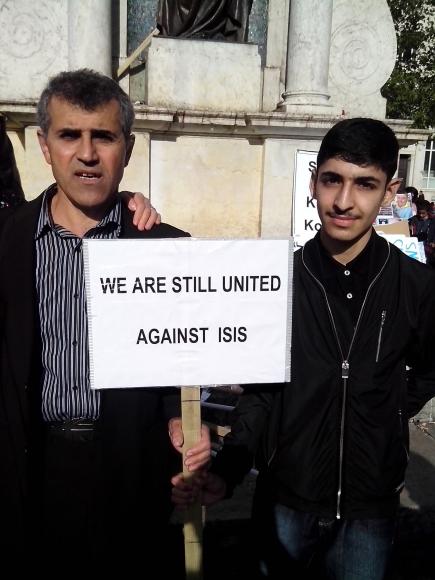 BARBARIC: Hersh Mamag (left) and Sizan say more intervention is needed to help Kobani
The protests came a day after a video showing the beheading of Salford taxi driver Alan Henning was released by Isis militants.
Mr Henning, who had travelled to Syria as part of an aid convoy, was kidnapped late last year and has been held captive ever since.
His death comes just days after Britain launched air strikes in Iraq against Isis.
Sizan, 16, from Kurdisan, said barbaric executions such as Mr Henning's are commonplace, and that his death should not overshadow the attrocities that have come before.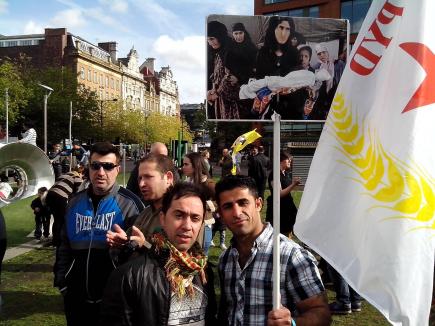 UNITED: The Kurdish people want to help rid the world of Isis
"These kind of things happen every day, before Isis, before any kind of intervention in Iraq and the Middle East, before Saddam Hussain, these things have always happened, it's just this time it was a Westerner," he told MM.
"People get hung every day. In Iran there are around 70 journalists who have been hung. Every year around a 100 people get hung and 300 Yazidis died in one day.
"So it's not right to say 'one person's died, it's time to intervene'. We should have intervened a long time ago.
"We feel for him [Alan Henning], it's an awful thing to happen, but this happens every single day."