Scores of anti-government activists gathered at St Peter's Square to protest outside the Tory Party Conference on Tuesday. 
Demonstrators chanting 'Tories Out' are concerned about the Northern Ireland Protocol, the £20 universal credit cut and National Insurance tax rise.  
Protester Ida Eerola told Mancunian Matters: "Loads of people are trying to survive and now people and Kill the Bill activists are making noise to show that we are serious."
The student added: "The government is attempting to criminalise protests, what we are doing right now, under the Police, Crime, Sentencing and Courts Bill. 
"This bill threatens gypsy and traveller communities as well." 
The PCSC Bill is making its way through parliament. 
The bill will grant police powers to prevent or restrict protests conducted by groups as well as lone individuals if they will result in serious disruption to the activities of an organisation.  
Protestors are concerned that the bill's vague language will criminalise any protest and punish political dissidents. 
It will allow fines of up to £2500 and three-month prison sentences for unauthorised encampments. 
The seizure of vehicles and trailers at the discretion of police, until criminal proceedings conclude, would also be allowed.
That could leave travellers without a home for months. 
But the bill is not the only concern that protesters have. 
Protestors are also concerned about the Northern Ireland Protocol. 
James Sheerin, a retired solicitor and third generation Irish immigrant, said: "Ireland is the biggest victim of Brexit. 
"Rewriting the Northern Ireland Protocol destroys the peace. 
"The concerns amongst Irish people are that there will be outbreaks of violence. 
"We want the protocol to back up the Good Friday Agreement and we want the choice to identify as British and Irish." 
The Northern Ireland Protocol helps prevent checks along the land border between Northern Ireland in the UK and the Republic of Ireland in the EU.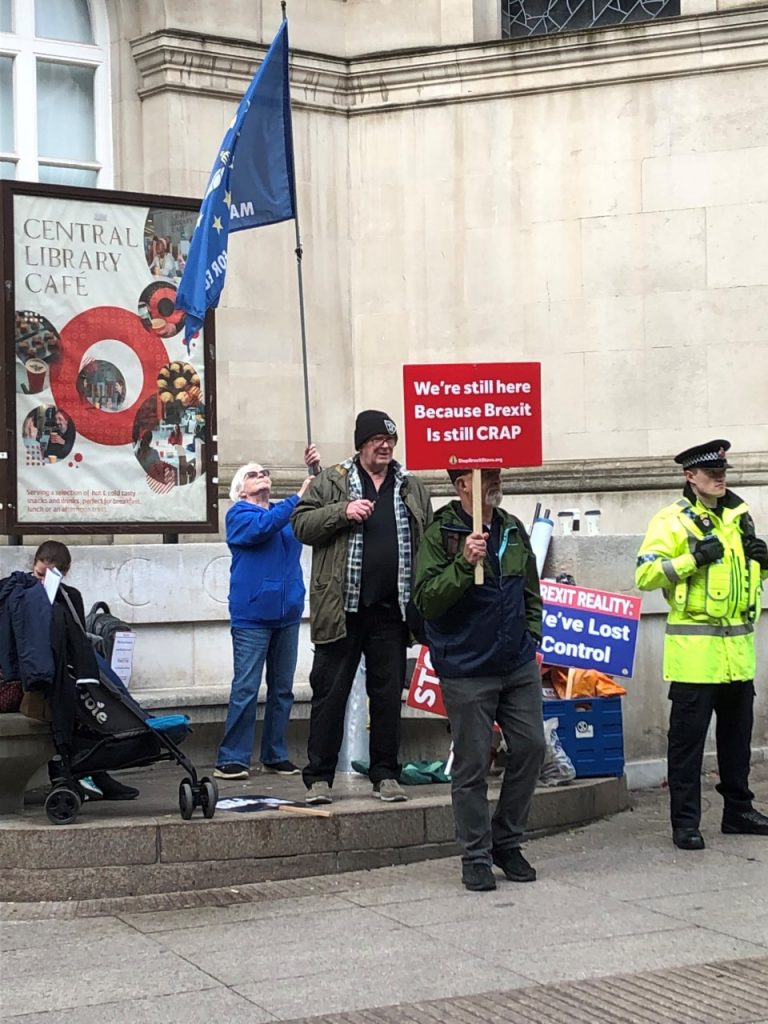 During Brexit negotiations, all sides agreed that protecting the Good Friday agreement was an absolute priority. 
The 1998 agreement was a deal between Catholic and Protestant factions in Northern Ireland to bring an end to sectarian violence. 
Prime Minister Boris Johnson promised there would be 'no forms, no checks, no barriers of any kind' on goods crossing the Irish sea after Brexit. 
But he has gone back on his word and some feel trust has been destroyed. 
Last April violence erupted in the streets of Belfast and other cities in Northern Ireland. 
Nearly 90 officers were hurt in Northern Ireland's worst street violence for years. 
Unionist leaders believed the violence was due to brewing tensions over the Irish Sea border imposed as a result of the UK-EU Brexit deal. 
Northern Ireland's nationalist parties – the Social Democratic and Labour Party (SDLP) and Sinn Féin – opposed Brexit.
But the SDLP has argued that the protocol is the only way of protecting Northern Ireland from the worst consequences of Brexit.