The Northern Quarter's notoriously poor record on fire safety – which saw 100 serious blazes in only 10 years – has seen 55% fewer incidents following a safety drive.
Last year saw tragedy for the Manchester city centre district following a number of serious fires across the area – one of which claimed the life of GMFRS Firefighter Stephen Hunt.
In the wake of the incident Greater Manchester Fire Rescue Service sought to appease anxious residents and business owners, setting up a dedicated Northern Quarter Safety Support Team to cover the area.
The move has led to 55% fewer fire-related incidents in the area when compared with the same period the previous year – and a reduction in costs of almost quarter of a million pounds.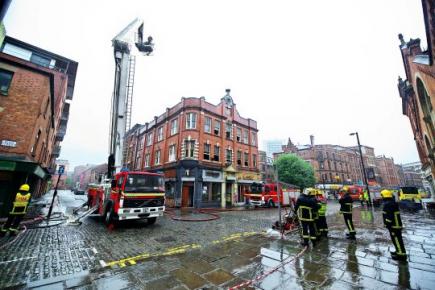 BLAZE: Popular burger venue Almost Famous caught fire in 2013
Councillor Bernard Priest, Deputy Leader of Manchester City Council hopes the decisive action will appease fears of anxious residents and business owners.
He said: "People who live, work or visit the area can now take comfort from knowing a huge amount of work has taken place.
"Dozens more members of staff have received specialist training and the number of fires has reduced dramatically."
GMRS visited all commercial premises in the area, held drop-in surgeries and implemented a bespoke training package at up to 70 establishments.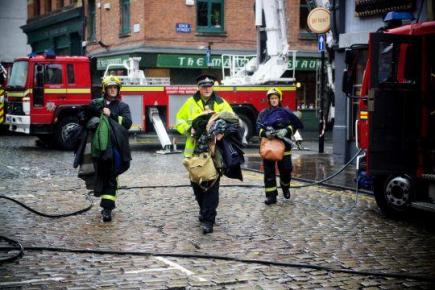 SAFETY DRIVE: Now the dedicated Northern Quarter Safety Support Team covers the area
They also created the UK's first ever Business Safety Champion to help provide support and advice to the business community on behalf of GMFRS.
GMFRS' Head of Protection, area manager Billy Myers, said: "[This improvement] is good news for business and good news for the public that live, work and visit this thriving and popular area of the city."
The new figures were released as part of National Business Safety Week which runs from December 8 to 14 and will encourage effective management of fire safety in the business community.
You can follow Business Fire Safety Week on Twitter using the hashtag #BSW14.
Images courtesy of GMFRS, with thanks.