Renowned Buddhist teacher Lama Jampa Thaye came back to his home city last Friday to speak to the people of Manchester.
Lama Jampa, originally from Bolton, appeared at Manchester Town Hall for A Journey to Wisdom, to speak about how he came to be such a high-profile figure in the world of Tibetan Buddhism.
The eagerly anticipated event saw a packed room learn about Lama Jampa's life, from the then-incomprehensible spiritual experiences he had at the age of five, to the Buddhist centres he has set up everywhere from London to Los Angeles.
Peter Popham, who is an author, journalist and student of Lama Jampa, also gave the audience a glimpse into his film about the Lama.
"Religion was always a dominant theme in my life, but everything became aligned in the summer of 1973 when I met the lamas," he said to the audience when speaking of how he first got into Buddhism when he became a student of Karma Thinley Rinpohe, a Tibetan refugee and Buddhist master based in Toronto.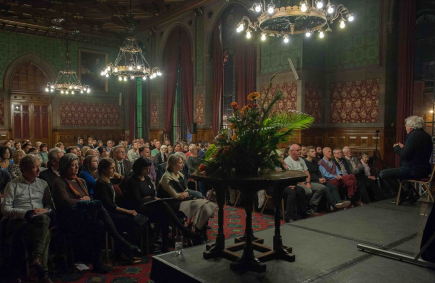 LIFE ALIGNED: Lama Jampa tells his Manchester audience how everything became clear when he was first introduced to Buddhism in the 1970s
When asked about those who create their own un-authentic versions of Buddhism to allow themselves to still indulge in acts not normally permitted by the philosophy, he said: "It is like an acid trip; eventually it all wears off, and they're back to where they were before.
"Ice is rigid and narrow, water is fluid. Learn not to break the ice, but learn to transform it."
The evening was rounded up with an exhibition, complete with glasses of wine being distributed and signings of Lama Jampa's book.
The exhibition was the perfect place to learn about the spread of Buddhism throughout the modern world, and more specifically throughout Manchester.
Lama Jampa Thaye was born in 1952 and has studied Buddhism from the age of 20. He now lives in London with his family and maintains a schedule packed with talks and teachings.
To learn more about Lama Jampa's teachings or try a meditation class, visit Kagyu Ling Buddhist Centre at 45 Manor Drive, Chorlton.