"At least it's not shite!" Danny Boyle laughs, with a mixture of joy, relief, and pride evident from his characterful face.
He had just received a standing ovation at HOME in Manchester for one of the first screenings in the country of the long-awaited sequel to Trainspotting, T2.
He was referring to a now infamous anecdote from the start of the T2 shoot.
They were filming a scene with Ewen Bremner (Spud) on top of a council estate in Edinburgh, when they heard a passer-by on the pavement below shouted: "Danny, it had better not be shite!"
For Boyle and the team, this struck home the sheer weight of expectation heaped on them to deliver a follow-up that was as funny, poignant and culturally significant as the original 1996 film.
One of the difficulties for the creators was working out exactly what it was about the first film that had led to its cult phenomenon status.
"For some reason, it had passed into the collective consciousness of a generation," Boyle explained.
"Expectations couldn't really have been higher."
A previous attempt to produce a screenplay for Irvine Welsh's 2002 novel, Porno, 13 years earlier had not reached the standard Boyle and Welsh felt was necessary to justify producing the sequel.
But after a week-long workshop in 2015 between Welsh, Boyle and screenwriter John Hodge – which Boyle admits consisted largely of drinking and reading bits from the original script – the seeds of T2 had been sown.
"When I read John's new script, there was something really personal and excruciating that I could see he was saying through the prism of these characters.
"When Renton stands there and says, 'I'm 46 and I'm fucked!' that's John really – except he's 54!"
Before they began filming, there were certain conditions demanded by their producers at Sony Pictures.
Along with assurances that the four leads and Kelly MacDonald would be returning, the soundtrack had to capture the mood of a generation in the same way that the iconic 1996 soundtrack had done for the original.
"I became aware of this band, Young Fathers," Boyle recalled.
"And as soon as I heard them, I knew that they were going to be the modern heartbeat of this film.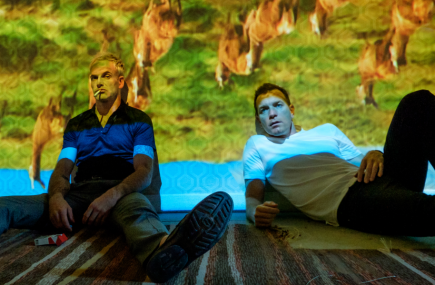 CHOOSE LIFE: Gone is Renton's (Ewan McGregor) boyish bravado of 1996, replaced by something a lot more desperate
"It's extraordinary, because when you're trying to needle-drop songs over a film, it's very hard to get right – sometimes you can have a song that you think is perfect and then you try it and it just doesn't work.
"But with Young Fathers, we could have used virtually any of their tracks, just swap them around, and they would all work.
"If we'd had no money we would have used them for the whole soundtrack and sold the film on that basis, but luckily we had enough financial backing that we were able to put the likes of Blondie and Frankie Goes to Hollywood in there too."
One of the other requests from the executives at Sony was that there would be a repeat of the era-defining 'Choose life' speech, delivered by Renton in the opening scene of Trainspotting – a speech that was replicated in everything from student posters to political speeches, capturing the cultural zeitgeist of the Britpop era in the 1990s.
"What I think is brilliant about John's update of the 'Choose life' speech isn't just that it matches the litany of the first one exactly, but that there's an amazing transition in tone halfway through.
"Renton attacks it in this sort of aggressive, punk style but actually what he's talking about is his struggles to find atonement for his absence, and without that he can't grow.
"He gets his voice back again, he's able to articulate for the first time in this film, what it is what's wrong with him and with society.
"He doesn't have the voice-over in this film, and he couldn't because he doesn't have that confidence, that boyish bravado he has in the first, that reckless arrogance of not caring about anything.
"The mocking tone he has about those choices in Trainspotting is a lot more acute now, a lot more frightening and desperate."
 The new film dwells primarily on this process of aging and the anxiety of leaving no tangible influence on the world.
As Sick Boy accuses Renton of being a "tourist in his own youth", there is a self-aware nostalgia in the throwbacks and Proustian memories of the original film.
"In the end, we only used one minute of shots from the first film. It seems like more but if you pick it right, it just has this resonance, like a depth charge in your memory."
For the actors, too, much of the shooting seemed almost like muscle memory, replicating movements and characterisations of their younger parts, now with a tinge of middle-aged mediocrity fuelling their actions.
"I was expecting them to tiptoe back into their old characters," Boyle admitted.
"But no, they were blazing from the first day, and I knew then, and the crew knew, that we were really going to have to raise our game. They were full of confidence, of urgency. It was brilliant."
And it seems that the audience agree. 20 years on, T2 has gone straight to number two in the UK box office, comfortably out-performing Oscar hopefuls La La Land and Hacksaw Ridge,
And as the swathes of four and five star reviews flood in, Boyle can be buoyed by the assurance that, whatever anyone has to say about the much-anticipated sequel, it certainly isn't shite.