Hundreds of people will 'bare as much as they dare' across the streets of Manchester to celebrate the city's 12th edition of the World Naked Bike Ride, this Friday.
The totally free mass ride takes place in over 70 cities around the planet, and was set up to highlight cyclists vulnerability as well as promoting body positivity.
Last year saw more than 500 people roam the roads in Manchester and with Friday's forecast suggesting 20 degrees expect to see some red bottoms around town!
The group is set to meet at All Saints Park on Oxford Road, assembling from 6pm before setting off at 7pm and is expected to take 1.5 hours to complete.
It is one of many around the UK happening during June, including Bristol, London, Brighton, Portsmouth, Southampton, Canterbury, York and Newcastle upon Tyne.
And the event has been celebrated before it even begun, at Manchester's Lifedrawingplus class in the Northern Quarter.
Organised by Agata Alcaniz, the session saw 20+ artists challenge themselves to draw live model Valentinos Thomos posing in various stances alongside the light blue bike.
On running this specific session, Agata said: "I like to do something different and it's linking the life drawing with things that are happening in the rest of Manchester.
"I think it's an incredible festive event and what is most special is that it is run by volunteers who want to highlight cyclists vulnerability as well as body positivity.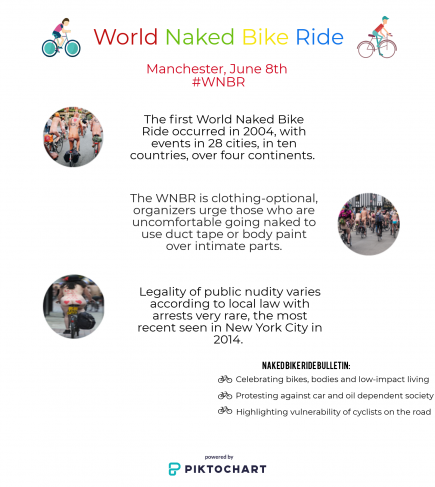 "Some people have issues with their own body but to go to this event is a manifestation of saying, I respect my body and everyone has different bodies and that's alright."
One of the artists, Alison Scott, also shared her excitement about this Friday's event adding: "I saw it last year for the first time as they all swept past me and I thought what a fantastic, exciting thing to do – I just wish there were more people that did it."
So, if you find yourself in the centre of Manchester come Friday make sure you sneak a peek at the passing event – it'll flash before your eyes!
For more information about the event, visit www.WNBR.org.uk or click here.
And for those interested in the Life Drawing sessions, there are weekly classes on Tuesdays between 7.30pm-9.30pm @ Studio Bee,14-16 Faraday Street.
For more information visit www.facebook.com/lifedrawingplus or follow them on instagram at www.instagram.com/life_drawing_plus.