The skeleton of Manchester's most famous elephant is currently on display at Manchester Piccadilly Station.
Maharajah, who has been housed in Manchester Museum, finally arrived at the train station 147 years after his scheduled arrival.
In 1872 a travelling circus sold the Asian elephant to Belle Vue Zoological Gardens in Gorton, Manchester for £650.
The pachyderm was due to travel to Manchester via train but became distressed, refused to travel, and tore off the roof of the carriage in the process.
As a result, Maharajah and his trainer, Lorenzo Lawrence, walked the 220-mile journey from the Edinburgh – a 10-day trek.
Maharajah remained at the zoo for ten years before passing away at the age of 18 and his skeleton was sold to Manchester Museum.
Lawrence remained at the zoo and eventually became head elephant-keeper at Belle Vue for over 40 years.
The Maharajah exhibition is part of hello future, a new £13 million refurbishment project to develop and transform the museum.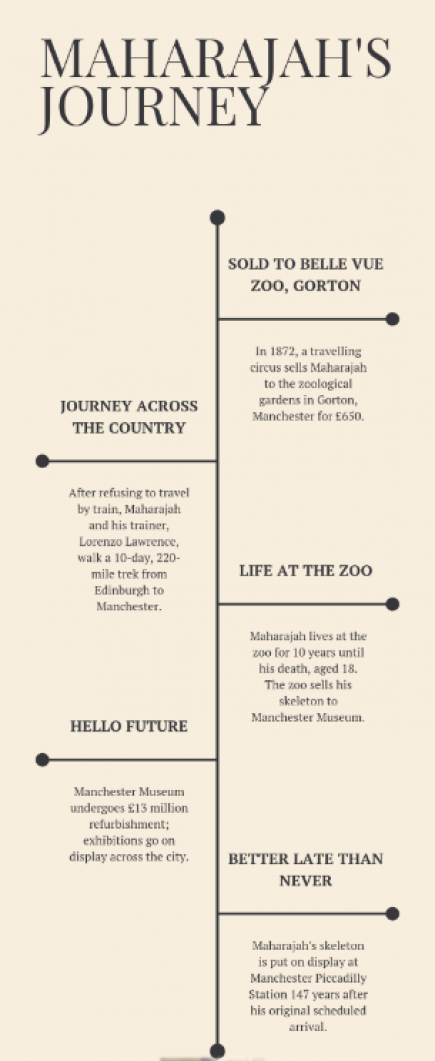 The three-year project includes: a new Exhibition Hall, South Asia Gallery, Chinese Culture Gallery and Welcome Centre.
Whilst the project is being carried out, collections and exhibitions, like Maharajah will be on the road displayed across the city. 
How do you get an elephant into a train station? 

Watch Maharajah's arrival into Piccadilly Station! https://t.co/27WbUO2rim#MMhellofuture pic.twitter.com/adSywzUHRz

— Manchester Museum (@McrMuseum) June 6, 2019
Maharajah's skeleton is on display at Piccadilly Station until Sunday, June 16.
To find out more information, visit: https://mmhellofuture.wordpress.com/ and follow #Mmhellofuture