Disability activists have slammed the design of a memorial to the Peterloo massacre for being inaccessible. 
The monument will be unveiled on the bicentennial anniversary of the events of 16 August 1819, where 18 peaceful protesters were killed.
Designed by artist Jeremy Deller and costing Manchester City Council £1m, the memorial consists of concentric circles that form a series of steps leading up to a platform.
In Deller's words the monument is "not something to be looked at and not touched – it is something to be on." But for disabled people, especially those in wheelchairs, this won't be possible.
"This memorial is set to become a glaring metaphor for inequality and segregation with disabled people at the bottom of the memorial, literally being talked down to," said a statement from the campaign group against the design to the council.
The group is calling for a halt to construction of the memorial and for a complete rework of its design – one which will be accessible to all. But the council has claimed that no further changes can be made in time for the unveiling.
A spokesperson said: "We have engaged, and will continue to engage, with people who are disabled in order to make this memorial accessible while recognising that this is not a building or similar structure but a piece of public art.
"While we respect the fact that some people feel that these changes still do not go far enough, we believe we have done the best we realistically can allowing for the constraints of the site."
However, opposition councillors voiced their support for the disabled community. Deputy Leader of the Lib Dems, Richard Kilpatrick, told MM: "I am shocked and surprised by the rubbish response from the council, and their failure to come up with a suitable solution.
"It is totally unacceptable that anything designed in 2019, let alone a memorial, should not be completely accessible to all."
Similarly dissatisfied with the council's response, on Thursday June 6 protesters gathered at the site of construction outside Manchester Central Convention Complex, while the launch for the official calendar of events commemorating Peterloo was taking place inside.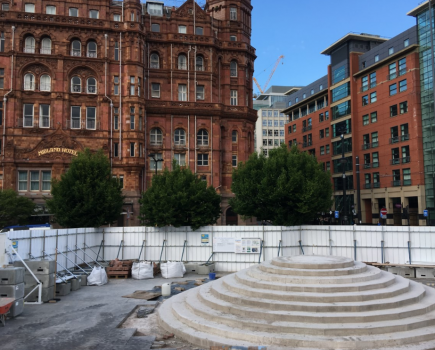 'GLARING METAPHOR FOR INEQUALITY': Protestors are furious but the council maintain they are discussing the memorial's accessibility with disabled people
"It's wrong that they should build something like this, which is all about equal rights, and then make it inaccessible to people with disabilities," said Ann Tarpey, who was attending the protest to support her son Dominic.
"It's very, very disappointing. They might make a change, but I'm not holding out much hope."
Flick Harris, chair of Manchester Disabled People's Access Group, stated that campaigners had unsuccessfully argued that if time constraints were an issue, the structure which would be unveiled at the ceremony could simply be temporary.
"Everybody really wants a Peterloo memorial because it's such an important issue, and it's all about equality for everybody.
"In 2019 it's shameful. They're only complying with inclusive design when it suits them.
"Manchester's such a good city in other ways because it's so diverse, but when it comes to design they're lagging behind unfortunately."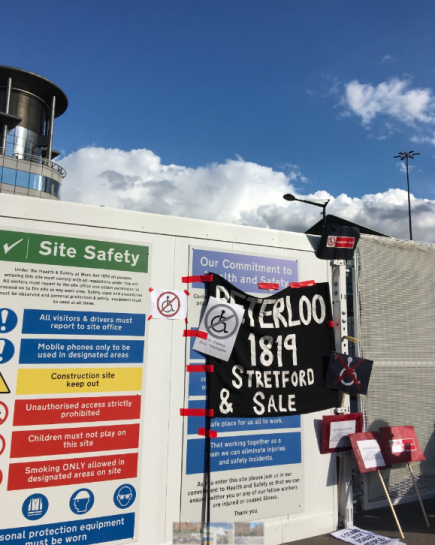 'LAGGING BEHIND': For all Manchester's forward thinking, some designs and ideas are stuck in the dark ages says the chair of Manchester Disabled People's Access Group
Also at the protest was Councillor Shirley Proctor, who represents Flixton, Trafford. She aimed her criticism at Manchester City Council Leader Sir Richard Leese: "I'm horrified that he's made this decision.
"Why do you think it's acceptable to do that? Why do you think it's acceptable to prevent disabled people accessing something that is really important to commemorate? What's your excuse, and what are you gonna do about it?"
The council has made some modifications to the memorial's design since concerns were raised, including the incorporation of a ramp and handrail.
However these changes simply aren't good enough for the protesters, for whom the fight for equality continues.