Coronation Street star Jennie McAlpine has shown her support for a new campaign supporting mothers who wish to breastfeed while out in Manchester.
The campaign encourages restaurants and cafes to display a 'Breastfeeding Friendly Mark', which shows that new mums are welcome to feed their children inside.
Mum-of-one Jennie – famed for playing Fizz Stape on the cobbles – is no stranger to the hospitality businesses after opening Annie's on Old Bank Street in 2012.
The tearoom actually became the first place to be awarded the mark after the actress hosted a group of breastfeeding mothers last week.
Talking about the campaign, the soap star said: "The breastfeeding friendly mark is such a great and welcome idea.
"We at Annie's will be proudly displaying ours. As a mum, finding a place where you can feed your baby in what you know are comfy and welcoming surroundings is so important. Well done Manchester!"
It costs nothing for businesses to obtain the mark and they do not need to make any changes to their premises, just show the sign in a window or door.
The initiative has been developed by public health experts from Manchester Health and Care Commissioning (MHCC) and its launch coincides with World Breastfeeding Week, which started on August 1 and ends today (August 7).
Councillor Bev Craig, Executive Member for Adult Health and Social Care at Manchester City Council, described this as a positive step, saying: "Many businesses already are breastfeeding friendly but we want to break down any barriers that mothers may have about feeding their child in public so they know when they enter a café or restaurant in the city that they won't get a hostile reaction."
In February, MM spoke to the owners of Lunya, a Manchester tapas restaurant also hoping to normalise breastfeeding by creating a safe space for mothers wishing to tend to their children's appetite.
Elaine Kinsella, a mother-of-three who runs the restaurant with her husband Peter, described how other spaces have not been so welcoming, with mums even being asked to stop or leave.
Last month, the M.E.N reported how mother Aimee Wood was subject to online abuse after posting pictures of her feeding her child on social media.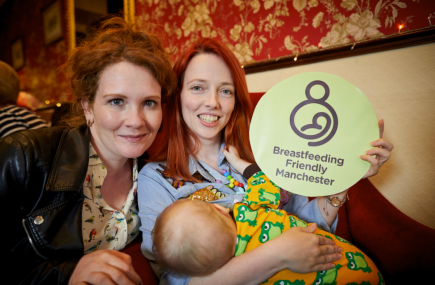 ANNIE'S: Jennie owns her own tearoom in the city centre
Then last week, a woman took to Twitter after the V&A Museum in London told her to cover up whilst breastfeeding, despite being surrounded by statues of naked women.
Although research suggests considerable health benefits for both mother and child, the UK has one of the lowest breastfeeding rates in the world, in part due to the challenges women can sometimes face whilst doing it in public.
The new campaign launched in Manchester is aiming to change this by encouraging mothers to breastfeed their babies exclusively for the first six months.
According to a study published in The Lancet, although 81% of mothers in the UK try breastfeeding at some point, just 34% carry on for six months.
David Regan, Director of Population Health and Wellbeing at MHCC, said: "There are proven health benefits to breastfeeding and this campaign emphasises our commitment to support mothers across the city to breastfeed. 
"We want breastfeeding in public to be a normal part of everyday life and we ask all businesses and organisations across the city to join the breastfeeding-friendly scheme."