Anti-Trident activitists rallied outside an engineering company today in protest of their involvement in an 'illegal' nuclear weapons contract, calling it a 'waste of money'.
Jacobs Engineering, whose offices are only yards from where the Tory party conference is held, are part of the consortium which is undertaking construction at the Atomic Weapons Establishments (AWE) in Berkshire.
The consortium has a 25 year contract, currently worth around £1 billion per year, which was supposed to run until 2025. 
But earlier this year, it was discovered that the government considered scrapping the contract due to spiralling costs and poor performance.
Dave Webb, Chair of National CND, also on the protest, believes that companies such as Jacobs have become unnecessarily richer while others 'depend on food banks to survive'.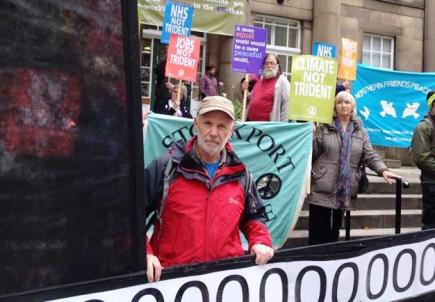 'DOUBLY IMMORAL': Chairn of National CND David Webb says Osborne is happy to 'cut the poor' while 'lining the pockets' of big businesses
He said: "Huge sums of taxpayers money are being poured into the nuclear weapons system, before parliament has even debated whether to replace Trident.
"While the CEOs of companies like Jacobs are getting richer through this massive input of public money, there are people in this city depending on food banks to survive.
"It's doubly immoral because George Osborne is obviously happy to cut the poor, while continuing to line the pockets of big businesses like Jacobs.
"But also because investing in weapons of mass destruction is illegal and immoral."
The AWE contract is said to represent among the biggest profit margins within the Jacobs business portfolio.
Under the programme, which commenced in 2005, spending at the AWE has risen to around £1 billion per year, half of which is capital expenditure on new buildings and facilities.
AWE has been accused of assigning inadequately skilled personnel with no track record of delivery – known within project management circles as the 'Jacobs mafia' – to manage projects.
But the £634m nuclear project, which will manufacture enriched uranium components for the UK's nuclear warheads, is now 'in limbo' after a number of failings in the planning and construction stages.
Jacobs Engineering were accused of lacking 'the calibre or credentials to run major projects'.
Protesters have carried an enormous model of a Trident nuclear-armed submarine and placed it on the lawn outside the offices. Others have long banners and are distributing leaflets to workers and passers-by.
Andrew Gibson, one of the protesters from Greater Manchester CND, added that public money might all be put to waste because of an 'unethical' and 'undemocratic contract'.
He said: "It's just outrageous that Jacobs have been paid such vast amounts of public money for an unethical and undemocratic contract.
"And to make matters worse, it may now all be wasted due to their incompetence.
"We're not blaming the individual workers, although we do want to make sure they're aware of the unethical business that their employer is engaged in.
"The country needs people with their skills, and we're encouraging them to diversify – to use their skills to engineer a better future"