Runners will take to the streets for the Bolton Marathon next May, for the first time since 1987.
Organisers have announced that the event, postponed this year because of the coronavirus pandemic, will take place on Sunday May 16, 2021 – with a heavy focus on sustainability.
More than 1,000 runners have already signed up to the marathon, which will take place almost exactly a year after the race was planned to make a comeback following an absence of 33 years.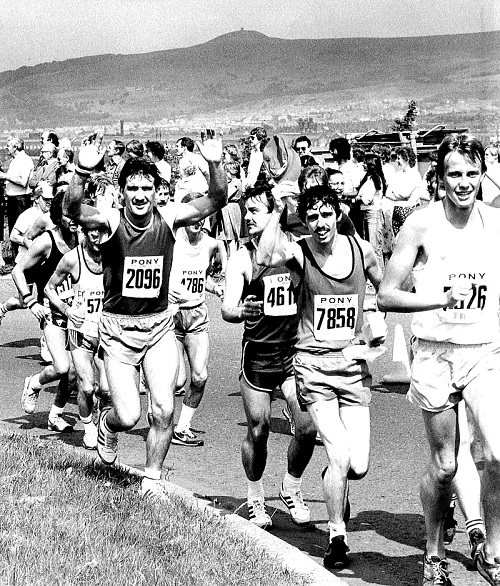 Race director Richard Smith said: "Our aim was always to deliver a marathon like no other.
"The race will be the most sustainable running event in the world and we are relentless in our quest to eradicate single-use plastic from the event."

The route will see participants run 26.2 miles in a loop round Bolton, starting and finishing in Queens Park.
Runners will travel through Smithills, Sharples, Bromley Cross, Harwood, Darcy Lever, Little Lever and Farnworth.
Work has been continuing in the background to make Bolton Marathon the most sustainable running event in the world.
It is focussed on eradicating single use plastic from the event, with a range of solutions.
Measures taken will include replacing plastic bottles of water with easily recyclable paper cups and disqualifying anyone who fails to dispose of them in designated "drop zones" along the course.
And everyone will be encouraged to travel to the event by bicycle or public transport.
Mr Smith added: "It's great news for everyone who has signed up to take part, volunteers, charities, our sponsors and all those who have supported us through what has been a very challenging year."
Bolton Marathon also aims to create events with the community at its heart.
The Bolton Marathon Primary Schools Challenge started and, before the pandemic struck, almost 19,000 youngsters were motivated to run and walk at school.
And the Bolton Marathon Community Trust will support local groups, residents and charities throughout the region to become more active 365 days a year.
Bolton Hospice, a local charity which has provided care for thousands of Bolton people over its 26-year history has been chosen as the preferred charity for Bolton Marathon.
Mr Smith said: "These last few months have been a massive test for us all and I can't thank you enough for your overwhelming support for us and each other.
"Obviously, the new date is subject to government guidance for mass participation events."
Those who have registered for the Marathon and the 10k race have been given two options – to defer their place or transfer their entry to another runner free of charge.
There will also be a family fun run the day before, on Saturday May 15, which is free a limit of 500 entrants. A 10k race, on the same day as the Marathon costs £25 with a 1500 entry limit.
You can get enter either race or get involved as a volunteer or sponsor at www.boltonmarathon.com.