City planning chiefs are expected to approve plans for the creation of the third-highest building of Manchester's ever-changing skyline next week.
The proposals for a new 35-storey residential building on Whitworth Street West, submitted in July, will be brought before Manchester City Council's planning committee on Thursday.
If approved as per the planning officers' recommendation, the building will register at 117m, meaning it is dwarfed by only the CIS Tower (118m) and Beetham Tower (168m).
Unoccupied since 1992, 10-12 Whitworth Street West was previously a warehouse for iron and steel merchants, but its new use will offer 327 apartments, assisting the growing requirement for housing in the city.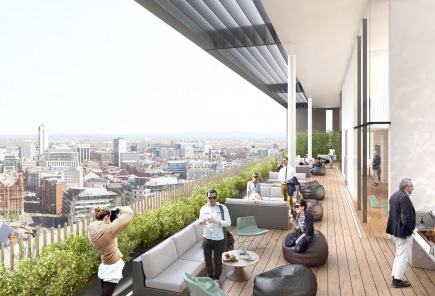 PLACE TO PLAY: The development will feature a roof terrace with views across the city
The development comes at an exciting time in terms of the city's development, with the 27-storey Axis tower also due to dramatically alter Manchester's skyline.
Drawing on the building's location near the growing Deansgate transport hub, the plans, submitted by Brigantes and Duvet 1 Property Management, reveal a grand vision.
5Plus Architects, who drew up the plans, said: "The brief is to create a gateway building that not only announces your arrival into Manchester but compliments the First Street development and the southern gateway.
"The building, along with the Axis development, has a responsibility for rejuvenating the spaces between these important city quarters.
"This development aims to answer the criticism of poorly managed rented residential buildings by providing an on-site management team and 24-hour concierge service."
Located near Oxford Road station and the HOME arts centre, as well as multiple pubs and bars, apartments in the new building – which will predominantly face north or south – are likely to be highly sought after.
As well as apartments, the tower will also feature an atrium with a residents lounge and gym facilities.
The building, featuring a pavilion on the roof as well as a pergola, will be fully glazed in order to emphasise its verticality.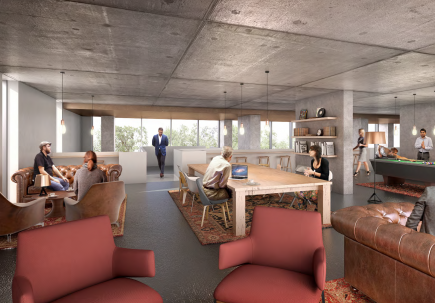 REST AND RELAXATION: The luxurious residents lounge will be open to all
Complaints have arisen from nearby businesses, with Deansgate Locks bar Sugar Buddha voicing concerns that noise from the venue could cause tension amongst prospective tenants.
Local residents, meanwhile, have bemoaned the lack of consultation, stating that the development would be overbearing, out of character, and its sheer height would result in substantial loss of natural light.
5Plus explain that despite the presence of Grade 2 listing buildings, such as the Deansgate Locks Viaduct Structure, the structures will not be directly affected.
The site had previously been earmarked for an 18-storey luxury hotel, before the economic crash caused the project to be shelved in 2009. 
The current plans were put before the council last month but were deferred.
All images courtesy of 5Plus Architects, with thanks.