Corrie stars are showing their support for an inspirational charity fundraiser from Bolton, who has raised over £7,000 for The Christie and Ovarian Cancer Research.
After being diagnosed with incurable ovarian cancer Sally Blood, 43, from Horwich, rallied the troops to set up Sally's Army.
The fundraising group became a way for her to maintain a positive mental attitude towards her illness and raise money for charity at the same time.
Earlier this year Sally's comrades took part in a 22mile hike from Rivington Pike to Darwin Tower and back to christen the organisation, making £2,000 in the process.
Following the hike's success Sally continued her fundraising by releasing a baby and toddler calendar which features the children of close friends and families.
She has been overwhelmed by the response which she says has been much bigger than she ever anticipated.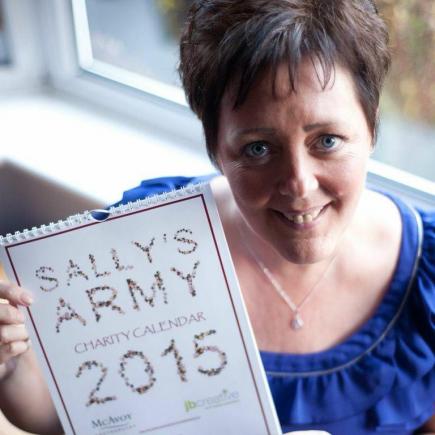 BEYOND EXPECTATIONS: Sally Blood's calendars have been far more popular than she anticipated
She said: "I am amazed at how popular the calendars have been. I initially planned to make 200 but so far, I've had orders in for over 550!"
Sally has surpassed her initial fundraising target, recently reaching a grand total £7,000 so far.
The calendars have even caught the attention of a number of Coronation Street celebs.
Sally visited the set and shared her story with Catherine Tyldesley, Ryan Thomas, Les Dennis, Ben Price and Sue Nicholls, who each bought a calendar to show their support.
And the Corrie crew are not alone in recognising the wonderful achievement of Sally's Army.
Stefanie Underhill, Community Fundraising Officer at The Christie charity, said:  "Sally is an inspirational, committed fundraiser and we are very grateful for her support.
"She was previously part of a committee when she worked at JD Sports head office in Pilsworth, which raised £500,000 towards the Teenage and Young Adult cancer unit at The Christie. We can't thank her enough." 
The money raised by Sally's Army is vital for charities like The Christie – home to the largest chemotherapy unit in the UK – which rely on fundraisers to ensure the sustention of services and aid new developments.
The Christie is currently working on exciting new projects including a £28.5million Manchester Cancer Research Centre which is due to open this winter.
Additionally in 2018 The Christie will open the UK's first high energy proton beam therapy service – a treatment currently only available in America. 
The work the charity does is indispensable for many people in a similar situation to Sally.
She said: "The Christie staff have been amazing with me and I cannot thank them enough for the treatment I have received to date."
You can find out more about The Christie's work, staff, patients, fundraisers by clicking here. 
Images courtesy of Jenny McAvoy Photography, with thanks.