Greater Manchester Police officers have paid their respects to the 12 Parisians left dead yesterday with a small ceremony and two minutes silence outside the Force's Central Park headquarters.
The ceremony took place 24 hours after yesterday's terrorist attack at the offices of the French satirical newspaper Charlie Hebdo which left two police officers, nine journalists and a building maintenance worker dead.
Photographs taken during the ceremony will be sent to French police as a show of solidarity and respect and a book of condolence will be available for the public to sign.
Chief Constable of Greater Manchester Police Sir Peter Fahy said: "Our thoughts and sympathies are with the families of all those who lost their lives in yesterday's tragic and savage events.
"All members of the British police forces are shocked at the savagery of this attack. In any democratic society it is the role of the police to protect basic human rights and our two French colleagues died protecting free speech."
As well as the ceremony, the Force's Twitter account observed one hour's media silence as a mark of respect using the hashtag #PoliceTributeToParis.
We will be observing a one-hour social media silence as part of #PoliceTributeToParis from 10.30-11.30am

— G M Police (@gmpolice) January 8, 2015
Police forces across the UK came together at 10.30am to hold a two minute silence as a mark of respect and tweeted photographs to show solidarity for their French colleagues.
Met Officers observe 2 minute silence #PoliceTributeToParis outside New Scotland Yard #CharlieHebdo pic.twitter.com/MyqfcWnPvb

— Metropolitan Police (@metpoliceuk) January 8, 2015
Sir Peter Fahy spoke of the risks the French police were facing in 'carrying out their duty' and spoke of their 'great bravery'.
He went on to ask for the full support of the public, saying: "We need the continued cooperation and support of the public but all members of British policing will be even more determined to meet this threat."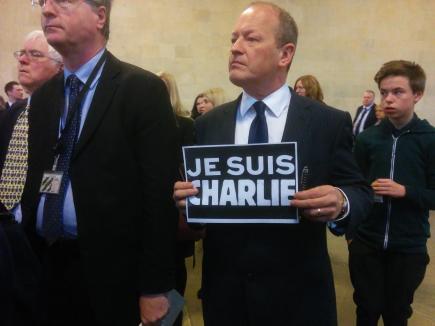 JE SUIS CHARLIE: Simon Danczuk MP holds up the sign that has become the rallying cry across the world in response to the attacks
Rochdale MP Simon Danczuk also attended the vigil and claimed that 'mindless' attacks on free speech would not work.
"The horrific attack on journalists in Paris this week has shocked the world," he said. "But while I have been sickened at these barbaric murders, the sight of thousands of people coming together in moving vigils in France and other countries gives me hope.
"This is a reminder that our values will not be compromised by the mindless actions of a minority of criminal lunatics and that terrorists will never drive us apart."​
The book of condolence will be available from Monday January 12 at the Force's headquarters for anyone wishing to leave a message.