The number of Manchester children in council-arranged foster care due to abuse and neglect is at its highest level in five years, MM can reveal.
MM's Freedom of Information request to Manchester City Council also shows the average number of foster placements a child is switched between is increasing rapidly.
A staggering 534 children were fostered because of abuse and neglect in 2013/14, compared with 439 in 2010/11 – an increase of 22%.
Manchester Councillor Julie Reid, who chairs the Young People and Children Scrutiny Committee, said: "We've got to safeguard children. Children need parents, they need stable parents that they can rely on."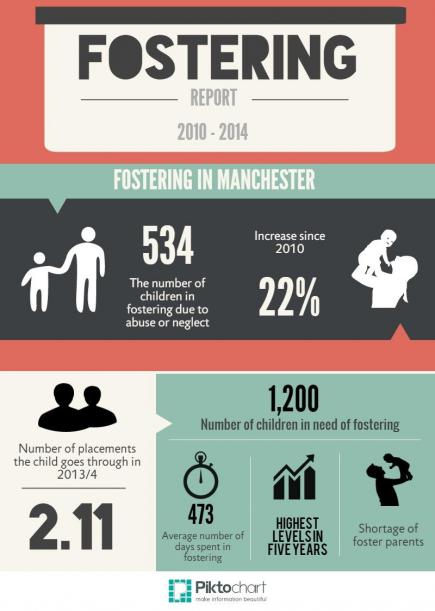 Children in foster care are also experiencing more placements throughout their care, with each child having on average 1.58 placements in 2009/10 compared with 2.11 in 2013/14.
This is putting further strain on the number of people available to provide foster care, with some reports indicating an alarming shortage.
It's thought there are some 1,200 Greater Manchester children in need of fostering – a figure much higher than the national average.
Fostering Solutions recently launched the 'Foster15' initiative, which is targeting growth in the number of people offering care. 
A spokesman for Foster Solutions said: "Foster 15 is ongoing for the next couple of months."
Ms Reid, a councillor for Gorton South, said: "My job is to make sure that less children come into care in the first place that don't need it.
"What we're looking for is a permanent home for all our children whether that be with the parents or whether that be with somebody else.
"What we don't really want is long-term fostering, because that's not stability for children.
"Quite often we end up with teenagers coming into care very late and quite often foster carers are difficult to come by anyway. To find foster carers at that stage is quite difficult."
The data also shows the average number of days a child spends in a foster placement has fallen markedly, from 602 in 2009/10 to 473 in 2013/14 – a drop of 21%.
With the average number of placements per child increasing and the average duration of each placement decreasing, there is a fear the system is missing out on children in need.
Ms Reid said: "The idea is to help parents from birth and then support them to keep the children because children don't fare better in care – that's what statistics do show.
"We try to get better outcomes for children across the board, whether that's in education, in social services – any aspect where children and young people are in Manchester.
"When children come into care early and there is no hope of them going home to parents then the idea is to do more adoption as early as possible.
"The children then have stability there for them. I'm not saying adoptions don't break down – it's quite rare though."
Image courtesy of James Justin, with thanks.