A Manchester dad of two who has been banned from seeing his children has taken his campaign for fathers' rights to David Cameron's doorstep.
Chris Tompson, 38, from Oldham has not seen his eight-year-old daughter and six-year-old son since March 2013 and is now staging a month-long protest in the Prime Minister's Oxfordshire constituency of Witney.
He went on a ten-day hunger strike in June to coincide with Father's Day and has parked up both outside David Cameron's constituency home and office for the last month to highlight what he believes to be the 'injustices' of secret family courts.
Chris told MM: "Children across the country are getting stolen in a kangaroo court with a judge who can give someone else full custody of your children with no witnesses, no jury, nothing.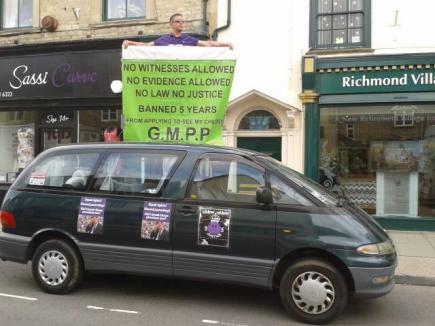 PROTESTING: Chris outside David Cameron's constituency office
"The judge in my case said I was allowed no witnesses, no evidence and I couldn't have my family child psychologist with me.
"The only way I will come home from here and protesting at Crown Courts, Magistrates' Courts and other council buildings is when I get to see my kids."
He has been sleeping in his van which is emblazoned with posters demanding the rights of fathers and grandparents to see their children being taken into consideration.
"They are stolen in secret and they effectively put a price tag on these kids in 'foster shops'."
Chris explained that locals were very supportive with people honking their horns in support as they drive passed his van, making home-cooked meals for him and even giving him money – with one woman gifting him £1,000.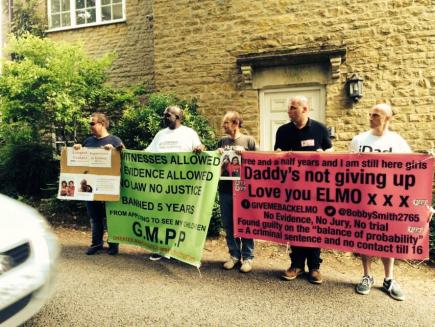 SOLIDARITY: Members of Greater Manchester Parents Protesting 
He has clocked up 13 parking tickets, each with a £50 fine, and has now concealed his registration plate and tax disc to prevent traffic wardens issuing any more tickets.
"I have no intention of paying them, any fines or doing community service, they'll have to send me to prison – I feel that strongly about it.
"The people of Witney have been great and have given me money, food and support.
"They've said I should run as an MP and if I did they would vote for me – they believe they can get David Cameron out.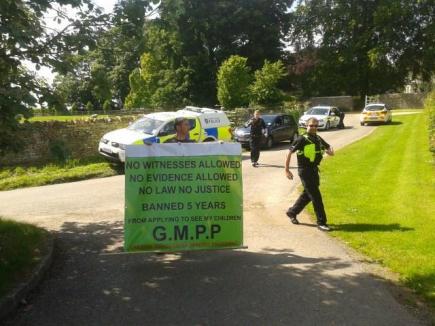 SEEKING JUSTICE: Chris protesting in Witney
"They are fed up and a lot of them are saying they will vote UKIP but I've explained that if they vote UKIP there will be no changes within family law."
Chris is now reaching out to other fathers and grandparents in the same position through his group Greater Manchester Parents Protesting (GMPP).
The Facebook group has amassed more than 500 members who share similar stories regarding access to their children and grandchildren.
Chris said that the aim of the group was to get people together and offer them support.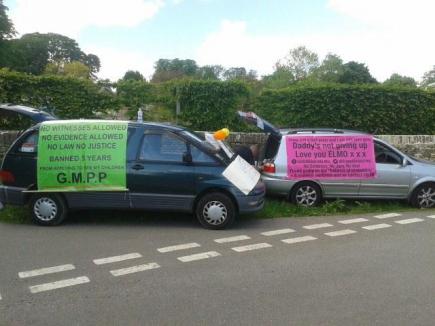 ON THE ROAD: Chris takes his message across the country
He explained: "I've had grandparents crying their eyes out to me because they haven't seen their grandchildren and they probably never will. 
"Other people have told me about how a district judge has said a parent can have contact with their child in a contact centre but have to pay £100 to see them.
"Parents are resorting to selling their stuff on Facebook to visit their kids and when they get there they are kept waiting – it's all wrong."
Although he vigorously campaigns for fathers' rights he doesn't back campaign group Fathers 4 Justice.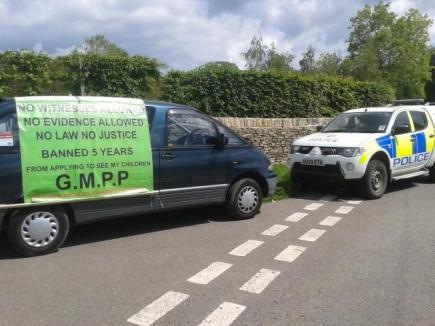 STAND OFF: Police attend the peaceful protest
He said: "I don't support Fathers 4 Justice – there are better ways of protesting than climbing buildings or spraying paint on art work."
He hopes to continue staging his protest for another five months in the hope of affecting change for himself and others in a similar position.
He said: "I don't want my kids turning around to me at 16 asking 'Dad why didn't you want to see me?'
"Hopefully by protesting and speaking with people they can see I've done everything I can."
Pictures via Facebook