The British public is starting to speak out against what they believe is 'a scam'.
A YouGov poll has found that over half of the people asked did not believe that the BBC license fee is a good value for money.
In the UK, it is legally required to pay £157.50 for a TV license if you want to watch or record live broadcast programmes on a TV, computer and other devices or download or watch BBC programmes on iPlayer – live, catch up or on demand.
If someone is caught doing these without a license, then they can be fined up to £1000.
Figures from the Ministry of Justice show that around 18,000 people under the age of 20 have been prosecuted in the last few years for not paying their license.
Ashley McCauley, 19, a student at the University of York said: "I don't see the point in paying for TV license in my opinion it's a scam you'll never see people my age paying for it because there's more options out there."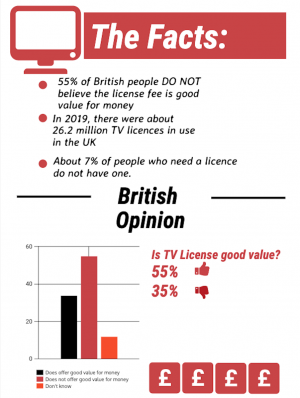 This evidence comes despite the fact that fewer than half of 16-24 year olds watch the BBC a week, instead favouring streaming services such as Netflix and YouTube.
Previously, people aged 75 or over could get a TV license for free however the BBC has decided to change that.
After August 1st only people aged 75+ and receiving Pension Credit will be eligible for a free license which will be subsidised by the BBC, rather than the government as previously done.
This leaves pensioners who aren't receiving Pension Credit who may still be working having to give up a portion of their wage to continue watching live television.
Susie Sale, 67, of Tenby, said: "It is outdated, maybe years ago when the BBC was the main channel it was valid, then ITV and other channels came along, they have to fund their channels by advertising.
"I no longer watch the BBC because of their absolute bias, but even if I only watch other channels live, I still have to pay the BBC, if I don't pay, I can get a criminal record. This is disgraceful."
Susie, who is currently receiving Pension Credit, did argue that there are good reasons for the relinquishing of the subsidies for people over 75, she said: "There are pensioners who are considerably well off, and it would be better to direct the money where it is needed i.e. maybe for pensioners on pension credit over 70."
Age UK, a charity that campaigns for issues that affects pensioners in the UK, has started a petition to 'save free TV for older people'.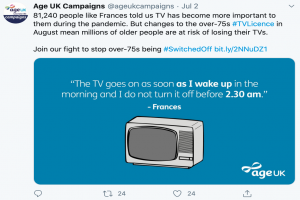 Caroline Abrahams, Age UK's Charity Director, said: "We welcome the BBC's decision to allow free TV Licences for over-75s to continue during this health emergency as a victory for common sense.
"Unfortunately many over-75s will have already received a letter suggesting they get their Pension Credit letters photocopied at the local library or corner shop. This runs counter to the public health message the Government seems likely to be giving older people very soon about staying at home to reduce their risk of infection.
"We will be monitoring the situation closely and continuing to liaise with Government and the BBC over this period."
Government statistics state that in total people aged 75-79 receive £255 a month on average, the highest amount in any qualified age group, people aged 90 and over receive £217 a month on average.