A national HIV awareness campaign has launched in Manchester city centre, featuring a ten-foot-tall ecosystem of living, vibrant plants spelling out the word 'HIV'.
HIV Has Changed's mission is about educating, challenging social stigmas, and 'realigning the public perception of HIV with the reality today.'
Set up on New Cathedral Street yesterday and in place until Sunday morning, the installation includes 3,500 colourful plants and flowers which have been hand-picked and individually placed in the wooden structure to represent that with the right treatment and care, people living with HIV can live a full, healthy life.
George House Trust lead campaign volunteer, Adrian, 33, told MM: "People have this 'dead' image when they think of HIV, but this is something that's blooming and alive.
"It's no longer a death sentence."
Adrian, who is HIV positive, says people can be "very harsh and nasty" about those living with the virus as there is still a great problem with misconceptions.
The campaign has been launched by Viiv Healthcare and the Passionate about Sexual Health (PaSH) Partnership, which is a new collaboration between George House Trust, BHA for Equality and the LGBT Foundation, in which they are working together around HIV prevention and support across Greater Manchester.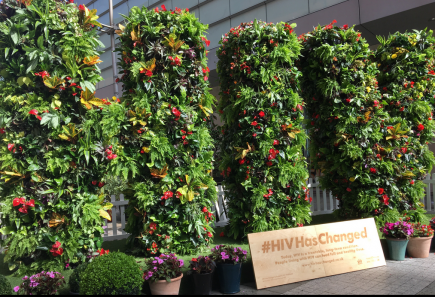 NO STIGMA: HIV Has Changed want perceptions about HIV to shift away from negative ones
Today, HIV is a treatable, long-term condition but a lack of knowledge means people can fear living with HIV and others make misconceptions about those who carry the virus.
Steph Mallas, CEO of George Trust House – a member's lead organisation providing services to people living with HIV – told MM on the phone: "I think there are people living with HIV, who aren't aware that they are living with HIV.
"Some people might be afraid to have an HIV test, which is sad because it's so easy to take a test.
"Sometimes that's why we don't hear as much about HIV as we used to. Medication has altered the future horizons of people living with HIV, they're living ordinary lives… to some extent their HIV virus is invisible in the population.
"We need to be talking to the ordinary citizens of Greater Manchester about HIV, about the stigma surrounding the virus still, that can be very negative – people are still fearful.
"There's a lack of awareness, particularly some groups of the population who think 'this doesn't affect me, I'm not gay'.
"There's a growing number of people who are heterosexual who are being diagnosed as positive. So it is something we need to be aware of.
"What is very positive on the other hand, is the number of people who are undetectable – the viral load is undetectable, so the risk of transmission is virtually zero."
A survey commissioned by ViiV Healthcare, showed that nine out of ten adults surveyed in Greater Manchester have heard of HIV, however it also highlighted the need for education to dispel persisting misconceptions about the virus.
Almost 1 in 5 (18%) people incorrectly said that HIV can be passed from person to person by kissing, and 1 in 4 (25%) didn't know, or were unsure of, the difference between HIV and AIDS.
HIV Has Changed aims to encourage people to go out and get tested in order to diagnose the virus as early as possible.
But what about the public's reaction?
"Amazing," says Adrian. "People are genuinely curious, asking questions and taking selfies."
Supporting the new campaign, Andy Burnham, Mayor of Greater Manchester said: "Manchester is a city that is proud of our inclusive, tolerant and diverse people.
"It's important that we all know that HIV has changed, and given our strong heritage as a progressive city, I'm proud that Manchester has been chosen as the launch city for this vibrant campaign.
"I know our communities are keen to help tackle the stigma associated with HIV."
A brief history of HIV
Human immunodeficiency virus, or HIV, is a virus that damages cells in the immune system, which weakens the body's ability to fight infections and diseases.
If the immune system has been severely damaged by the HIV virus, potentially life-threatening illnesses and infections can occur, which are given the name AIDS.
Although there is currently no cure for HIV, there are highly effective medication treatments which allow most people to live a long and healthy life.
There are approximately 4,900* people diagnosed with HIV living in the Greater Manchester area.
To find out more information visit www.hivhaschanged.co.uk or for HIV support visit www.ght.org.uk
*Based on statistics provided to George House Trust from an official study carried out in 2014.