Hordes of the walking dead are set to infect the streets of Manchester to encourage more people to dress up as zombies this Halloween.
The march for World Zombie Day is the second of three grizzly walks staged around the country, organised by the online retailer, Fancy Dress Ball, using the Twitter hastag, ZombieRevolution.
The #ZombieRevolution aims to highlight the alarming low number of people who choose to dress up as a zombie and change the habit for good.
Paul Howcroft, owner of Fancy Dress Ball, said: "Zombies are synonymous with Halloween, and we want to make sure this doesn't change.
"That's what the #ZombieRevolution is all about, this year we want more zombies than ever before trick or treating or at Halloween parties."
In recent years there have been a shift towards modern costumes such as dressing up as Disney characters rather than sporting traditional scary Halloween costumes.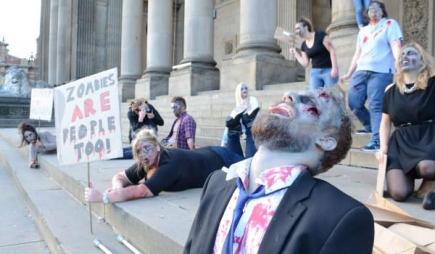 ZOMBIE LOVE: Organisers say the undead are synonymous with Halloween 
Organisers believe zombies are an integral part of Halloween and that they need to get classic horror back into the popular dress-up day.
Participant Alice Winters has said: "It's not so much a case of zombies over any other Halloween characters per se, we've got nothing against witches or skeletons etc.
"At the end of the day we love fancy dress and people dressing up for Halloween in any way is great to see but it would be good if this Halloween was full of classic costumes."
The public are invited to join in proceedings and share a love of zombies, remembering all the classic f such as Dawn of the Dead and everybody's favourite Michael Jacksons music video, Thriller.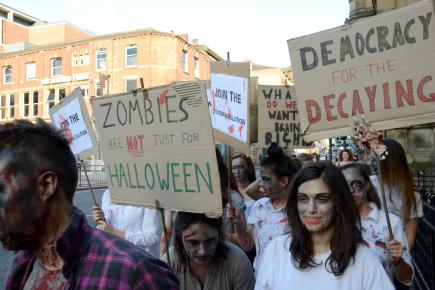 ZOMBIE REVOLUTION: Protesters turned out in numbers in Leeds
And organisers will hope the march will prove to be as successful as the first zombie march in Leeds.
Ms Winters added: "The response in Leeds was amazing. We had people come down from seeing it in the paper in full zombie costume and join in, including a 9-year-old boy called Ted who said 'it was the best day of his life'.
"That's what the #ZombieRevolution is all about, just having fun in fancy dress and pretending you're something you're not for a while – after all who doesn't like to do that?"
For more information click here. 
All make up courtesey of Rachael Divers, with thanks.