The terror attack on Charlie Hebdo offices in Paris was marked in Piccadilly Gardens last night as mourners gathered for a candlelit vigil.
People from a variety of backgrounds – including Muslims and French people – showed solidarity with the people of Paris.
The event, organised by Delphine Durot, was an unofficial precursor to tonight's official Manchester vigil that mourns the deaths of the journalists, policemen and civilians killed in Paris on Wednesday.
"Even if we are not in France, we are sharing this pain," said Nathalie Henry, the 'Conseiller Consulaire' who has organised tonight's vigil.
"They were daring, they were free – and for this, because they were working with the pen, they were condemned."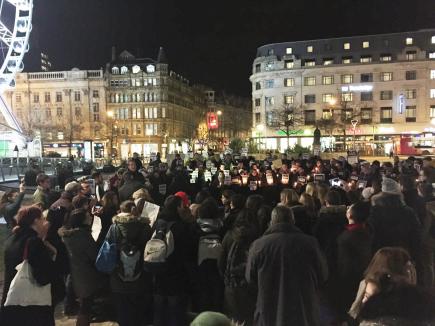 SOLIDARITY: Je suis Charlie signs being held up at Piccadilly Gardens vigil
Last night's event, organised only a hours before, attracted almost 200 people who stood together with candles, white roses and 'je suis Charlie' signs, as well as copies of the artist's cartoons.
Among fears of this attack sparking anti-Islamic actions, there were calls for people to remember the ideals of the French Revolution – liberty, equality and fraternity.
"You can have people who might want to catch the debate, and use it to show hate." said Nathalie. "But we need to be united against these people.
"Next week, Charlie Hebdo will be published thanks to the journalists stepping in – to over a million people. The terrorists have lost, they have already lost."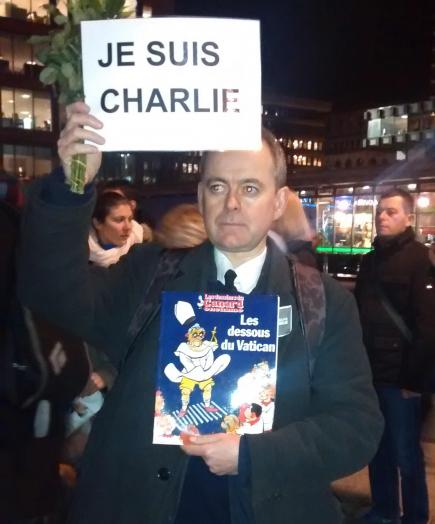 'SHARING THE PAIN': A Catholic teacher joins the Piccadilly Gardens protest
Some, though, didn't feel the unity around Charlie Hebdo would lead to increased Islamophobia.
Alex Webb, 23, said: "People are just supporting those who were killed and are showing their respect."
The photographer added: "I don't reckon they're in support of an anti-Muslim view."
Tracey Williams, from Trafford, agreed. The 46-year-old said: "I don't think people are thinking like that.
"This is a time of sadness – there are always going to be people looking for a way to show their prejudice, but that doesn't mean we shouldn't show our solidarity."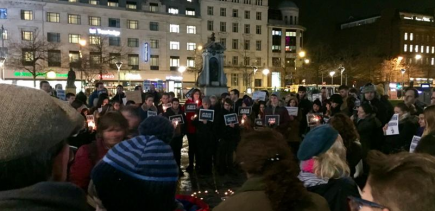 JE SUIS CHARLIE: Last night's Piccadilly Gardens unofficial vigil is a precursor to tonight's official display or unity
Others were more worried about how this would affect the Muslim community in Paris.
"There's always going to be the extreme ones, but that doesn't mean people should treat the Muslims in France any different," said office worker Mark Thoms.
The 26-year-old from Rochdale added: "Yeah, I think this could cause more extreme views about Muslims with some people."
— Delphine Durot (@DelphineDurot) January 7, 2015
Jeff Andrews, 59, shared this view. He said: "Of course people will be extreme with this, aren't they always?"
People will be 'standing in peace and silence' at tonight's vigil, taking place at 6:00pm in Piccadilly Gardens.
For more information, see the Facebook page here.
#JeSuisCharlie Freedom of speech demonstration, Manchester. Proud to see our poster used pic.twitter.com/yclrfH9MC2

— Carel Press (@CarelPress) January 9, 2015