An anti-fascist group have branded English Defence League supporters 'Nazis' as they united to oppose a rally in Manchester at the weekend.
More than 800 people attended EDL protests on Saturday in Albert Square, as supporters arrived from across the country to 'highlight the issues caused by migrants' while chanting phrases such as 'Muslim paedos off our streets'.
Campaign group Unite Against Fascism (UAF) launched their counter-protest in Piccadilly Gardens at the same time, as families and various union groups attended 'multicultural Manchester'.
A heavy police presence throughout the protest ensured order was maintained and despite tensions remaining high only four arrests were made on the day. 
It is thought it took around 300 officers to oversee the protests, as the parade marched from Walkabout on Quay Street up to Albert Square.
The bar originally came under fire for allowing the EDL protesters to gather there and drink before embarking on the march, however bosses hit back today to explain that they were asked to host the protesters by GMP.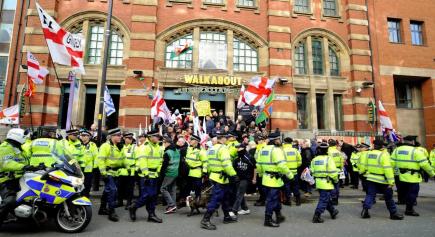 POLICE PRESENCE: More than 800 EDL members gathered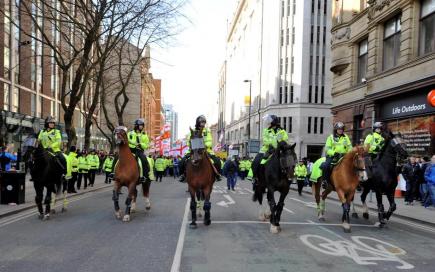 COST TO THE TAXPAYER: There was a strong police presence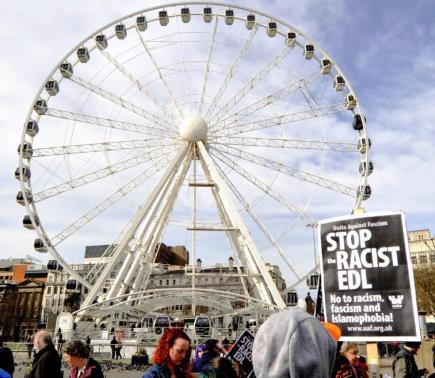 MULTICULTURAL CITY: Campaigners protested against EDL
Mike Killian, the chair of Greater Manchester UAF, was sickened by the behaviour of EDL supporters and accused them of spreading racial hatred.
"The EDL Nazis are trying to hold a race hate rally targeting migrants and spreading their message of division," he told MM.
"This is a united community wide protest that wants to make a stand against racist and will be marching around town to give that message."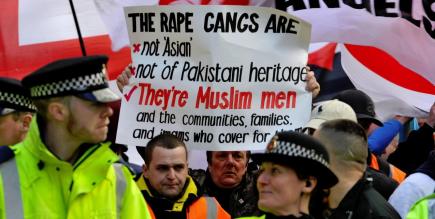 'SCARED OF BEING CALLED RACIST': An EDL supporter ensure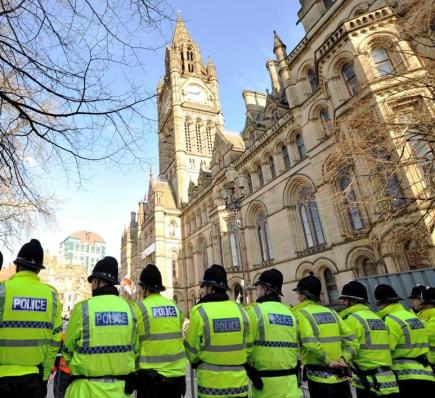 NICE DAY FOR A PROTEST: Sun lights up Manchester Town Hall as police keep opposing sides separate
The 59-year-old believed that Islamophobia is spread by irresponsible politicians and Muslim communities fear they are under attack.
Killian added: "The EDL Nazis are a really violent, nasty, divisive, race hating anti-Muslim group.
"They have received a number of setbacks last year due to determent campaigns against them but they are trying to recover. We cannot allow them to recover from their current situation.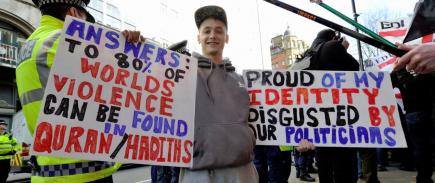 IDENTITY: EDL supporters made their views known
"We want and need to spread the message that racism is a real danger in the run up to the elections and we want to courage people to challenge racism wherever they confront it."
Despite all the precautions taken by the police, around 100 counter-protesters met EDL supporters at Manchester's Town Hall.
Andy Coles, a 64-year-old from Chorlton who attended the UAF counter-protest, described EDL members as 'thugs'.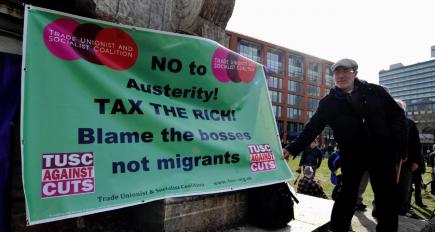 BLAME THE BOSSES: UAF believe migrants aren't a problem
"EDL came to Manchester with their racist and fascist members, who are bunch of street thugs who will get drunk and trash our city," he said.
"They are coming from outside of Manchester, they are not Mancunians.
"Manchester is a happy multicultural city where racism is in a very low level."
During the events which involved hundreds of people, only four arrests were made on the day.
Mr Coles added: "We don't show violence, we show that they are not welcome here purely by numbers.
"The anti-racist and anti-fascist movement will outnumber them as they did in Newcastle."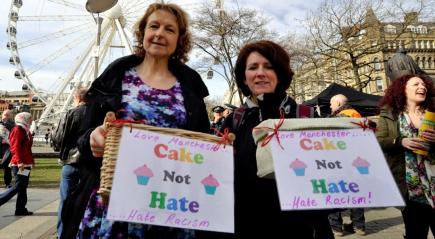 CAKE NOT HATE: Protestors spread their message loud and clear
EDL supporter John Smith from Wigan, explained that the rally was organised purely for people to air their views on Muslim child grooming gangs not being prosecuted by the law.
"Politicians do not talk about child grooming or issues like that because they are scared of being called a racist," he said.
"EDL are going around the country highlighting these sort of problems. We are here to highlight the problems which media and unions won't.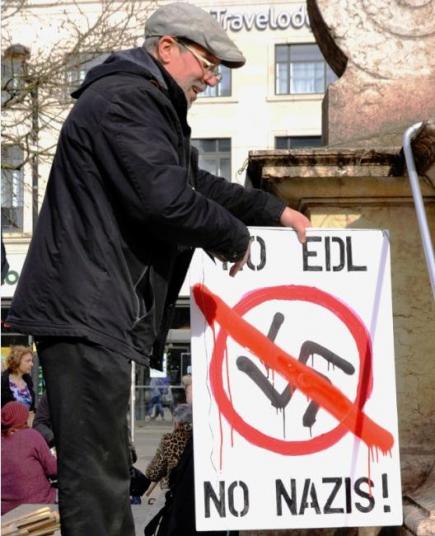 'NO NAZIS': Unite Against Freedom made their views known
"The Labour Party has let all these different cultures into our country, but all people have come here and started to live with their own laws and cultures.
"We don't want to see women stuck at home or bricks chucked at their head. We don't want to see gays being chucked down from buildings. Respect our country or get out, it's their choice."
The 38-year-old also believed that UAF were a 'corrupt' organisation run by Muslims who were trying to stifle freedom of speech.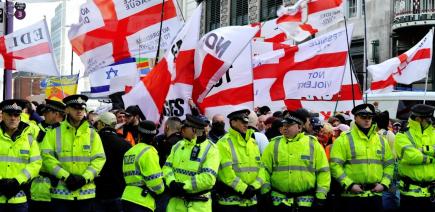 FREEDOM OF SPEECH: EDL believed they had a right to protest
"The protests against EDL are actually against freedom of speech," he said.
"We have got freedom of speech in this country and that should always be there for people.
"Also when you look at Unite Against Fascism you can see they are corrupt and they are run by Islamists."
A number of Manchester residents offered their opposing views to the EDL rally on Twitter, including Charlatans frontman Tim Burgess.
There's an EDL March in Manchester today. That's the Manchester that was built and made amazing by generations of immigration. Nice one lads

— Tim Burgess (@Tim_Burgess) March 7, 2015
Proud of Manchester. EDL had their segregated hate fest today: the rest of manc city center danced, laughed, ate and lived together.

— Jane Samuels (@JaneSamuels) March 7, 2015
The EDL rally in Manchester yesterday represented 0.0006% of the UK population. Some movement. Like a bowel one. pic.twitter.com/EmotjFtgGp

— Michael Di Paola (@MichaelDiPaola) March 8, 2015