With the looming general election and prospect of devolution the city is 'at a very important point in our history' according to the Greater Manchester Chamber of Commerce (GMCC) chief executive.
The GMCC united with Pro-Manchester to deliver this year's The Great Manchester Business Conference last week.
The event – held at The Point, Lancashire County Cricket Club, Old Trafford – provides a platform for business leaders to discuss the region's growth and progress thus far and how to ensure this continues in the future.
GMCC chief executive Clive Memmott said: "A great deal has happened in Manchester in the last 12 months.
"And now with a general election looming and the prospect of greater devolution for our city region, we are at a very important point in our history.
"This event is a great opportunity for us to reflect on these issues with a first-rate series of speakers and panelists."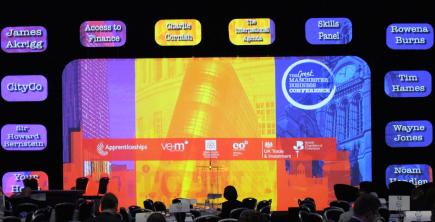 SMARTER CITIES: Use of new technology in business can drive growth
Renowned hosts of the conference BBC Breakfast's Stephanie McGovern and the influential author of The Saturday Economist, John Ashcroft, were joined by a range of key speakers.
These included chief executive of Manchester City Council Sir Howard Bernstein, Microsoft's head of technology for partners James Akrigg, Manchester Airport Group chief executive Charlie Cornish, and Manchester Science Partnerships chief executive Rowena Burns.
While leaders from the finance, science and technology, manufacturing, retail and property industries all praised the development the city has made in all sectors, they were keen to facilitate even greater growth.
All were agreed that for the region's businesses to keep blossoming there is a need for the creation of more jobs.
One key way to assist jobs growth is to get businesses helping young people, working with the National Apprenticeship Service, to develop the skills they'll need to succeed in the workplace.
Mr Akrigg was also eager to highlight the need for 'smarter cities' and how the use of new technology across all sectors can drive businesses and in turn drive entire industries.
He said: "We need to focus on smarter cities. We can't do this without smarter businesses. We can't do that without smarter working."
It was also noted that there is still plenty to be done to make city centre commuting easier.
However the conference heard how it is now more convenient than ever to commute and enjoy what the region has to offer.
Improved transport links, including the Metrolink expansion, was not the only aspect praised for its positive impact on the local economy as the growth in tourism and increasing student population have also played their part.
The Great Manchester Business Conference last week is an annual event designed to give attendees a chance to network and to strengthen the bonds between the city's businesses in order to make plans to further economic growth in the year ahead.
As Sir Howard said it is imperative to encourage growth and 'continue building on our global distinctiveness' especially after the crash on 2008.
Pro-Manchester is the largest business development organisation in the North West representing  financial and professional service and the wider business community.