Manchester hosted its third International Women's Day march on Saturday as several thousand people brought noise, political messages and positive energy to the city's streets.
The Walk for Women began at 12:30pm from Manchester Cathedral and progressed down Deansgate, ending in St Peter's Square for speeches, singing and plenty of cheering. The procession was followed by music, stalls and performances at the Central Library. 
The annual event, now in its third year, is organised by Manchester City Council and an International Women's Day steering group chaired by Councillor Sarah Judge.
Speaking before the event, Councillor Judge explained why International Women's Day is still relevant in today's society.
"Inequality is still a real issue that needs addressing to ensure women reach parity… I encourage everyone to take part and make your voices heard."
And make their voices heard they certainly did, living up to the official slogan of the event: "Rise, Roar, Represent."
People of all ages, races and genders took to the streets to march for a brighter and more equal future, banging drums, blowing whistles, waving flags and cheering; the noise was impressive. 
People marched in groups and on their own; with charities and workplaces or with family and friends. The party atmosphere was welcoming and inclusive. 
Laura Ashcroft marched for the first time as a woman since transitioning and was visibly excited.
"It feels very different!" she told MM. 
Laura was also marching as part of Invisible Manchester, a charity who train people affected by homelessness to be tour guides of their own cities.
Laura is a Manchester tour guide, specialising in the women of our city throughout history, making this IWD march even more special for her.  
Groups and organisations from all over the city marched together, from Trafford Rape Crisis, The Pankhurst Centre and Manchester Women's Aid, to the Women's Institute and Black Girls Hike. 
Placards displaying messages of hope and humour were aplenty, as were signs demanding change. Some demonstrators had written rape and domestic abuse crisis telephone numbers on the backs of posters highlighting one of the many reasons marches like this are still required in 2020.  
School girl, Lillia Adetoro, 10, carried a sign attached to her backpack with the simple but topical reminder that "climate justice is women's justice".
The event was multicultural, with honorary Mancunians from all over the globe uniting. Everly from the Democratic Republic of the Congo, now living in Openshaw, was marching with friends from the City of Sanctuary, an organisation helping people fleeing violence and persecution.
"I'm here to march and fight for our rights as women," she told MM. 
After the walk, crowds gathered in St. Peter's Square to listen to speeches from Councillor Judge and local musician and compere of the event, Claire Mooney. 
"This is the loudest and biggest march we've done yet!" Claire declared.
"I think the turn-out has been amazing. There's banners, there's flags, there's drummers, there's noise," she told MM.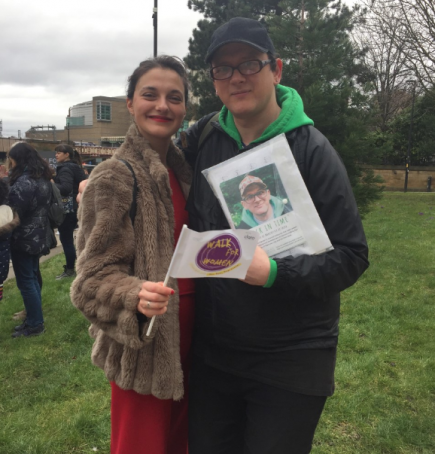 INVISIBLE MANCHESTER: Tour guide Laura Ashcroft (above right) was thrilled to be marching for the first time since transitioning
When asked why it is still important to celebrate IWD in such a loud and public way, Claire replied: "Women in 2020 are still way behind equal rights in politics, in pay, in the way we are treated.
"The more noise we can make and the bigger the crowd, the better it is for all of us."
The general feeling after the walk was one of success, however speakers reminded the marchers that there is still a long way to go before women are equal citizens of the world – summed it up by a sign held high in the crowd.
"Stay angry. Keep fighting. Keep marching."