A crafty carpenter from Stockport is taking it back to basics with amazing carvings made with British hardwood from fallen trees.
Matthew Simon, 59, from Marple Bridge, was inspired to start his company Black Cat Wood about ten years ago.
Minimising waste is a key part of Matthew's eco-friendly business philosophy and his passion for using sustainable resources began during his career as a mechanical engineer, specialising in the carbon footprint and lifecycle of products.
"I have a passion for sustainable use of materials which has developed from my research into design for the environment," he told MM.
Matthew, also known as Maz, uses well managed local woodland or fallen and windblown trees to source his materials as the 'forestry, processing and especially the transport of timber can give it a large carbon footprint'.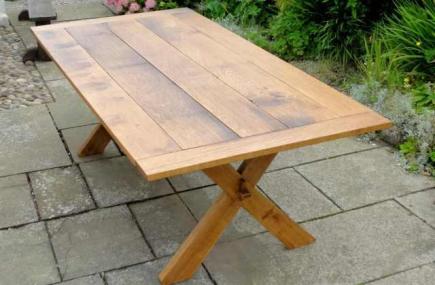 RESOURCEFUL: Maz uses wood from around his house for his projects
Maz said: "Using the wood green, straight from the tree, is best – this is called 'green woodworking'. 
"I try to use local wood, and if I need seasoned wood to obtain it air-dried or from a non fossil-fuelled kiln."
The retired mechanical engineer and university lecturer cites his late grandfather Sidney George May Williams, and his black cat Isaac, as his biggest woodworking inspirations.
Visiting Sidney (and not coincidently his black cat Isaac), at his workshop from an early age sparked Maz's interest in woodwork, a passion he has continued to pursue.
His quirky creations exploit the natural shape and properties of British wood he uses, which dictates the style and function of the product so that each piece 'reflects the original tree and speaks of the beauty of wood'.
Ambitious Maz, aims to use and learn about as many types of British hardwood as possible in his work.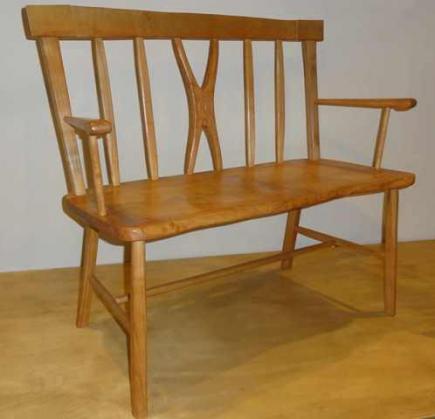 WOODLOVER: Maz showcases his work at the New Mills gallery in Derbyshire
BCW products are available from their online shop and at seasonal markets in the Stockport area.
Maz showcases his work, along with several other craftsmen at the New Mills gallery in High Peak, Derbyshire.
He is also involved with Tree Station, an environmentally and socially conscious co-operative based in West Gorton who offer both cooperate and domestic tree work, consultancy, landscaping and woodland management services.
Earlier in the year Maz and his wife Sally, 62, acquired Rollins Wood, a three hectare piece of neglected land in Marple Bridge.
With help from the Woodland Trust and local volunteers they are restoring it to native woodland and hope it can be used as an educational resource.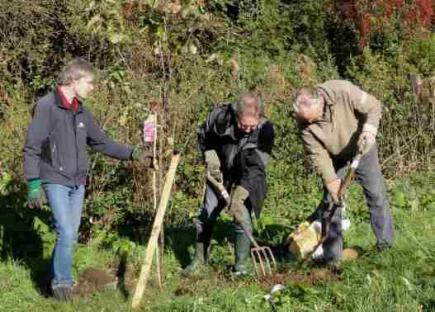 FUTURE SEEDS: The community wood is expected to flourish in 20 years
"We are also planting a forest garden and community orchard to complement the vegetable growing we've been doing this year with the neighbours whose houses back onto the land," he said.
They are several months into, what they expect will be a 50 year project, but say the community wood will be well on its way in 20 years.
To find out more about Maz's work and projects, clcik here.