Iron Maiden-branded beer Trooper, brewed by Stockport-based Robinsons, is celebrating a hugely successful first year in business today.
The brewery has shifted five million pints of the 4.7% ale to a market spanning 40 countries.
Metal heroes Iron Maiden leapt at the chance 12 months ago to collaborate with the 175-year-old brewery.
One year on – with the beer widely available in supermarket chains Sainsbury's, Tesco's, Morrisons and Asda – the group can look back on a year where they reached A New Frontier.
Lead singer Bruce Dickinson said: "What has been particularly encouraging, over and above the international sales success and even over the tremendous reaction from our fans, is how it has been so  warmly welcomed by serious beer aficionados outside the Iron Maiden community.
"As a dedicated ale drinker myself, I was very aware of the many great beers available and the extremely high level of competition we faced."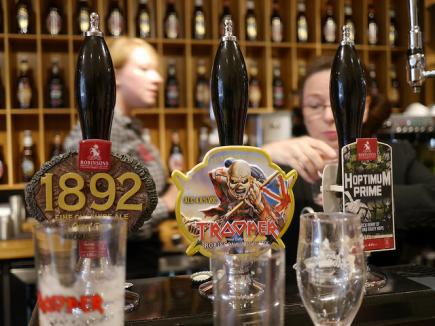 POUR US ANOTHER ONE: Trooper has been on the pumps for a year now (image courtesy of Smabs Sputzer, with thanks)
 
Trooper has taken off and, with the difficulties of launching a new beer, the band will be hoping their success does not go up in Holy Smoke.
Robinsons' Joint-Managing Director Oliver Robinson said the achievement was astonishing, even if it was a long and difficult process.
He said: "This is quite simply the most successful new product we have ever launched into the export market in our 175 year history."
The brewery is committed to Trooper's future sales as well, with John Robinson leaving his role as Brands Manager to focus exclusively on the beer.
They will be hoping that the beer can continue to thrive in Europe, America, Brazil, Canada and Mexico – just a few of the places where Trooper is as popular as the band themselves.
Fans of the beer will soon be able to use the 'Trooper Tracker' – an online facility which lets fans record the exact locations where the drink can be found.
It is a quickly-expanding brand, but rocker Bruce, who is also a pilot, can remember the early days of development.
The Iron Maiden man praised Robinsons' professionalism about the whole vision when the plans for the beer were in their initial stages.
"They wanted to know if we were serious about brewing a long-term beer – having a long-term relationship. It was almost like we were on trial or going for a job interview!
"I came up here (to Unicorn Brewery, Stockport) and saw what they'd got, and most importantly met the head brewer. We started talking beer and it all kicked off really."
Trooper will be the official ale at this year's Sonisphere Festival in Knebworth on July 4-6, which the band is performing at.
The event comes a year after the band unveiled the beer in typically-flamboyant fashion when they headlined Download Festival at Donington Park in Leicestershire.
"For Trooper to have grabbed people's imagination and taste buds right from the very start has given us all a real sense of satisfaction."
The beer is marketed for those with a Fear Of The Dark as 'a deep golden ale with a citric hop notes and dominating malt flavours with a subtle hint of lemon, using a combination of Goldings, Bobec and Cascade hops'.
Dickinson is delighted at how it has all gone and loves the beer.
"We've done it and it's all very exciting."
Main image courtesy of Steven Guzzardi, with thanks