Greater Manchester is hosting a range of events to offer support to unpaid carers this week.
As part of Carers Week 2016, organisations across the region are raising awareness of people who have taken on the responsibility of looking after a loved one.
Recent figures reveal that there are 300,000 carers registered in Greater Manchester alone, and many charities believe that are countless more who are not receiving any form of support.
"One of the main issues as a charity dealing with carers is trying to get people to identify themselves as a carer," Greater Manchester Carers Trust CEO, Paul Parlby, told MM.
"A lot of people just think it's a natural family thing to do and that they should just get on with it and stop moaning but it can be a very intensive role."
Carers Week aims to bring together people who care for sick, elderly or disabled people and raise awareness in the community of the work that they do.
Research has found that 42% of carers have struggled financially, and 60% have had to give up work or reduce their hours.
When employers are carer friendly, it makes a big difference & means carers can balance work with care. #carersweek pic.twitter.com/X5rVcAyois

— Carers Week (@carersweek) June 8, 2016
"There is a positive side to the caring role, it can help bond families together and develop a relationship that they may not have had before, but the impact it can have on a carers lifestyle can be quite large," said Paul.
"They can't just switch off and walk away – sometimes they have to be on call 24-hours-a-day, 7-days-a-week, they have to be up during the night and they quite often ignore their own health."
A national study of more than 6,000 registered carers found that 50% had ignored a health problem or experienced signs of worsening mental health.
Government cuts have also led to support services for carers being tightened in Greater Manchester and across the UK.
"There are numbers out there that say the money that carers save the UK economy is the equivalent to what it costs to run the NHS," said Paul.
"That's an amazing figure but the money going in to support carers has gone downhill over the last few years.
"A lot of it is local government funding for support and, through austerity measures, a lot of that has been reduced if not removed."
The Carers Trust, formally known as Crossroads, has been working to help carers in Manchester for over 30 years.
The charity recently rebranded itself in an attempt to better connect with the ranging age groups that it helps.
"It covers the full age spectrum, a lot of people just think its older people but it goes through the generations," said Paul.
"We're not just talking about adult carers – the caring role can start at a young age.
"We support kids as young as six who may be looking after a mum or dad with a substance issues, alcohol issues or a disability – so it can start at a very early age."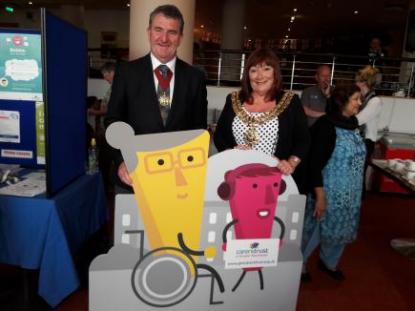 ENGAGING: Charity mascots with Mayor Byrne and husband John
The Carers Trust teamed up with Ancoats-based design agency, Transmission, to come up with new ways to engage with both young and adult carers.
Now, the charity has launched a group of illustrated characters which will be making appearances at events throughout Carers Week 2016.
"The idea of the emoticons is to connect with younger people through social media and clever internet use," said Paul.
 "We've been out on the road with them and the Bolton mayor had a picture taken with them – it's a different approach from the traditional one."
With public events being held across the region this week, the charity hopes that more people who provide unpaid care will be made aware of the support they are entitled to.
"A lot of people don't like the stigma of contacting social services but you don't have to go down that road," Paul told MM.
"You can contact the Carers Trust, for example, there are local carer's centres in each local authority area.
"It's about being brave enough to say 'I'm a carer'.
"It doesn't mean there's going to be a mark put against your name, it doesn't necessarily mean you're going to have a social worker come and visit you – there are other support mechanisms out there."
For more information, click here.
Image courtesy of the Carers Trust, with thanks.