The number of slips, trips or falls recorded at Manchester Piccadilly station have declined for the third year in a row.
A Freedom of Information (FOI) request sent to Network Rail revealed that the number of documented slips, trips or falls have fell by 48.7% – from 205 in 2014/15 to just 100 from April 2017 to February 2018.
The most noticeable reduction can be seen in the number of incidents on escalators where 119 slips, trips or falls were recorded in 2014/15, compared to just 56 this year.
While the number of people affected by slips, trips or falls involving railway vehicles remained stagnant, the sum injured on platforms dramatically reduced by 63% in a year.
"Safety is the number one priority for Network Rail," a spokesperson for Network Rail told MM. "We have introduced several initiatives to reduce the risk of slips, trips and falls at Manchester Piccadilly railway station.
"These include an escalator safety campaign with signage and audible messaging on several escalators, we have also introduced barriers on the boarding and landing areas of these escalators to give more time for users when approaching.
"We use a special covering on platform tiles to decrease the slip level and we have increased passenger space within the station.
"During wet weather, we use public announcements advising customers to take extra care and our cleaning team focus on doorways and entrances to reduce water on the concourse."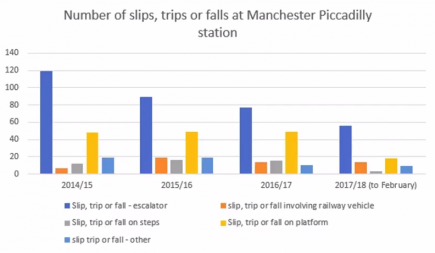 SAFETY: Network Rail insist keeping their passengers out of harm's way is a big priority
In March the Local Government Association (LGA) warned that the number of hospital admissions as a result of older people falling would rise to nearly 1,000 a day by the end of the decade.
LGA figures revealed that there were 316,669 hospital admissions of people aged 65 and over in England during 2016/17 due to falling, amounting to two thirds of all fall-related admissions.
Around a fifth resulted from slipping, tripping or stumbling – costing the NHS in excess of £2 billion a year to treat those injured.