Stoptober campaigners are advising smokers in the North West to ditch the fags for a gag in an attempt to reduce the number of cigarette users in the UK throughout October.
For the average person it can take up to eight attempts to quit smoking before successfully becoming clean.
But this year's Stoptober campaign hopes to encourage those who are struggling to pack in the habit by involving well-known comedians to spur on those taking part.
Comics including Bolton's Paddy McGuinness, Al Murray, Andi Osho and Simon Brodkin are promised to bring a touch of British comedy to the Stoptober challenge.
Councillor Keith Cunliffe, cabinet member for adult social care and health at Wigan Council, said: "Stoptober is a great opportunity for the smokers across the borough to quit together alongside friends, family and thousands of other people in our area.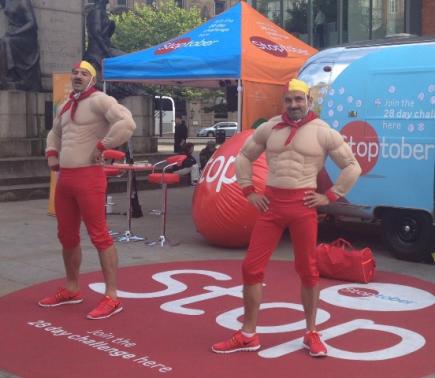 STOP! The scheme is supported by comedians such as Paddy McGuinness and Al Murray
"In Wigan Borough 21.8 per cent of residents currently smoke and I hope that the campaign will give them the encouragement and support they need to succeed in their 28-day quit attempt.
"Quitting is the single best thing you can do for your health and with the help of our local stop smoking service, the campaigns support and advice I'm sure this year will be very successful."
Though the campaign from Public Health England (PHE) officially kicks off on October 1, the 28-day nationwide movement has commenced in Manchester Piccadilly Gardens, one of the 24 stops in UK roadshow.
The day was filled with hopeful quitters seeking advice and help from specialists and experts.
Standing outside the stop smoking hub in Piccadilly Gardens, Chris Bell from Stop Smoking Manchester and Barnardos revealed to MM the worries that most smokers had expressed during the day.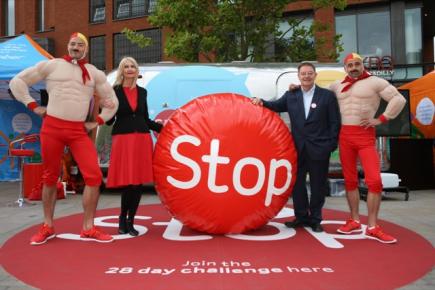 FINDING THE STRENGTH: Councillor Keith Cunliffe is backing the campaign
She said: "'Should I use e-cigarettes to stop smoking?', is the biggest question that's heard by advisors like myself more recently now because of the popularisation of e-cigarettes. 
"We wouldn't recommend them to anybody to use because we don't know what's in them exactly.
"There are up to 4,000 chemicals in one e-cigarette* but we don't know what exactly these chemicals are so we can't recommend anything that we don't fully understand.
"I would recommend people to treat them like a cigarette, smoke them outside and not in front of children or in enclosed spaces."
Mohamad Mohsan, 22, from Manchester, who signed up to Stoptober yesterday said: "I started smoking when I was 16 years-old socially with friends but I soon became addicted.
"I went on to smoke 40 cigarettes a day, which I have now managed to reduce to 16 a day, but after six years of smoking I feel unwell and constantly tired.
"I have signed up to the Stoptober 2014 challenge because I want to be healthy like the Comedy Fitness Brother here today.
"I am confident I will be able to quit using the support available and would encourage young people in the future to socialise with friends who don't encourage them to smoke."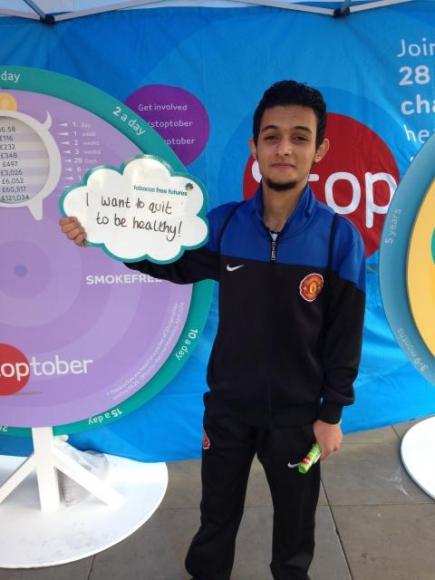 I WANT TO BREAK FREE: Mohamed has been smoking since the age of 16
Comedy won't be the only technique used to encourage people to stub out their cigs for good.
Quitters will get a range of free tools including a new stop smoking pack, a 28-day mobile app, text support with daily updates.
There will also be quitting advice and tips for coping, as well as the encouragement and support from thousands of people quitting together through social media channels.
Chris continued: "We're a diverse audience, society and country so I believe that having many different approaches is the answer.
"Having a fun spin on it may appeal to some people and that will maybe make it more encouraging.
"Sometimes it's the health messages and sometimes it's the financial side of it. There're a lot of different things that can be the turning point."
The 2013 campaign saw 250,000 people take part and 65% of those who took part successfully quit for 28 days.
The PHE is hoping even more will get involved this year by searching 'Stoptober' online and signing up.
Andrea Crossfield, Chief Executive of North West anti-tobacco social enterprise Tobacco Free Futures said: "After a successful Stoptober 2013, which saw 28,000 people in the North West sign up to quit, it would be great to see even more people pledging to quit this year.
"If you quit smoking for 28 days then you are five times more likely to quit for good, improving your health and putting more money into your pocket."
For more information and to sign up visit www.smokefree.nhs.uk/Stoptober or call 01942 481712 to speak to the stop smoking service.
*While the quote is accurate, MM have been unable to confirm exactly how many chemicals are in an e-cigarette. There are more than 4,000 in a regular cigarette, but many sources say it is a lot less in an e-cigarette. 
Images courtesy of Stoptober, with thanks