A disabled human rights campaigner Manjeet Kaur faces eviction from her Whalley Range home next week after Home Office bosses decided to end their support for her three-year fight for asylum.
Manjeet Kaur, 35, could be left homeless pending the decision of an appeals judge at the Asylum Support Tribunal in Piccadilly a week today.
After being served an eviction notice from the Home Office just five days ago, the chair of Manchester-based refugee rights charity RAPAR, who was left in a wheelchair after contracting polio aged eight, has been left fearing for her future.
And Mrs Kaur warned that the case could set a dangerous precedent for native disabled Brits.
"If they can make somebody in my position homeless or destitute then they're just testing the waters," she said.
"If they can do that then next time it could be citizens here, other disabled people in similar situations.
"I see it getting very difficult day-by-day, but I also believe in fighting back and winning."
Last Friday, October 3, Manjeet was hand-delivered an unaddressed and unsigned letter by the Housing Manager of her accommodation.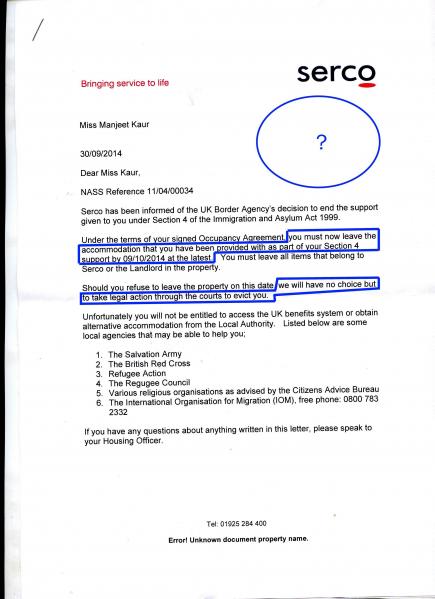 NOTICE: A copy of the letter sent to Manjeet Kaur
The letter, from outsourcing firm SERCO who are responsible for housing asylum seekers in the North West, instructed her: "You must now leave your accommodation … by 09/10/14 at the latest.
"Should you refuse to leave the property on this date, we will have no choice but to take legal action through the courts to evict you."
The refugee rights campaign group leader recently lodged a claim with the Court of Appeal on the grounds that the High Court has failed to engage with the facts of her asylum case and was given an appeal date of October 16.
"I don't know what the future holds at the moment – all my energy is being put into my case," said Mrs Kaur.
"Every day there is a new problem raised by UKBA (UK Border Agency). Sometimes they are stopping my support, other times they are sending me refusal letters – I can't really think about anything else.
"The only thing I am worried about is being safe and not homeless at the moment."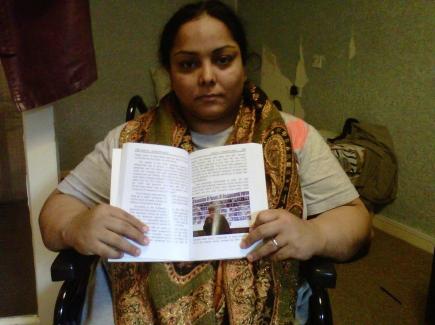 ONGOING FIGHT: Manjeet with one of her husband's books
Mrs Kaur has lived in her current home for three years since arriving in the UK in 2011 and has been instrumental in supporting other refugees who have come seeking asylum.
Her husband disappeared in February 2011 after being threatened and attacked because of his anti-government articles and books produced through his work as a journalist and Kashmir human rights activist.
Mrs Kaur fled to the UK the month after, prompted by rape and death threats from people looking for her husband. She was also savagely beaten twice to try and obtain information.
Born and living in Afghanistan until the death of her father when she moved to India, Mrs Kaur has has no-one to care for her should she be forced to return to the country after her husband's disappearance.
But now she faces being thrown on to the country's streets or even leaving the country altogether.
"We don't know whether [the judge] will decide on the day or let us know later," said Mrs Kaur on when she will find out if she has permission to remain in her home.
"I am hopeful. It's not the Home Office making the decision, it's the judge – surely they can't say it's okay to put somebody on the street?
"I'm hoping that the judge will be sympathetic and have common sense."
Despite the attacks worsening her condition, the Home Office still required her to take four buses to check-in at the Dallas Court Reporting Centre at Salford Quays.
Speaking of the 'pointless bureaucracy of the day wasted' in going to the centre, Mrs Kaur said: "You're just showing up so that they know you exist. Whenever I go there I inform my friends and RAPAR, because when you go in and you don't know whether you are coming out or not."
Mrs Kaur has remained active as a campaigner throughout the case and appeared on national television news during last year's Conservative Party Conference to counter anti-migrant statements by Home Secretary Theresa May.
"Because of the cuts and changes in law, I think day-by-day it is getting very difficult. People are being put into debt situations or they go into hiding when their cases become difficult," she said.
"But for me it is difficult to go into hiding, or go undocumented, only because I have special needs and I really can't afford to do that. So I have to be on the forefront and I need supporters and I need justice to prevail."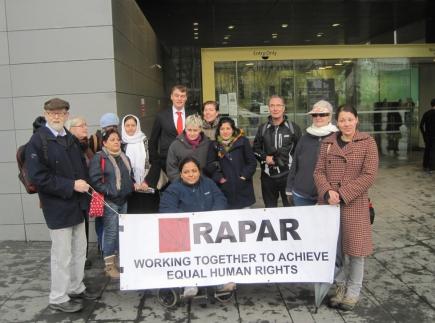 STALWART: Manjeet has led RAPAR protests throughout her UK stay
However, has relatives in England who can support her and her solicitor Gary McIndoe, of Latitude Law, explained that they are hopeful the judges will side with them.
He said: "In our view, successive judges have failed to address the core issues of the case – Manjeet's nationality, the harm she suffered in the past and the practicality of removing her to India."