Residents are fighting to save Ryebank Fields in Chorlton from a proposed development of 120 houses by Manchester Metropolitan University (MMU).
The development could result in the removal of over a hundred oak trees planted by a local resident in 1999.
This is a deep-seated issue in the community with disputes beginning 20 years ago when MMU first discussed developing the land. Ryebank Fields was gifted to MMU by Manchester Council in the 1970s to be used as sports facilities.
In order to preserve the land as a public green space local resident, Steve Silver planted 300 acorns from nearby oak trees.
Hoping to make the site "less attractive to developers" he was also inspired by a government climate initiative at the time which encouraged communities to plant trees across the country.
The saplings have since grown into trees and users of the fields are devastated to learn they could be destroyed if MMU goes ahead with its building plans.
These plans include working alongside a community housing group to develop a range of two, three, four and five bedroom houses in the form of detached, semi-detached and terraced properties.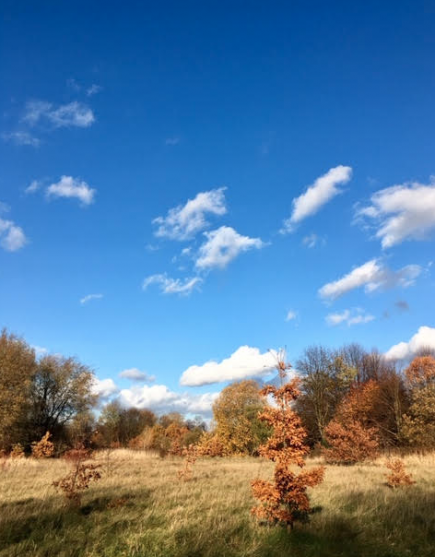 THE 300: A Chorlton resident since 1979, Steve Silver planted 300 Millennium Oak trees in 1999 after MMU started talks to develop Ryebank Fields (image courtesy of Jay Clarke)
The university is also proposing to include on-site affordable housing in line with Core Strategy policy H8.
However, Mr Silver, who has lived in Chorlton since 1979, is just one of many residents angered by the proposed development of the site.
He said: "Climate change is our most pressing problem this century (look to Australia). We can't afford to be complacent. MMU putting short term profit…ahead of long term sustainability of our environment is not acceptable.
"Ryebank Fields has been an open space available to local residents for all the time I have lived permanently in Chorlton. When my boys were growing up, in the 80s and 90s, it was where they built their dens, where they had their games and where they walked with our dogs."
Nigel Woodcock, spokesperson for the Friends of Ryebank Fields residents group, said: "We are absolutely devastated that we will lose our Millennium Oaks. MMU are supposed to be the UK's greenest university.
"They were planted 20 years ago to fight climate change – it's so ironic that we will lose them now," he added.
The Ryebank Fields site is currently listed as 'greenfield', and campaigners against the development argue that this doesn't comply with local planning policies.
However, MMU maintains that the development will meet high levels of environmental sustainability and have cited a potential enhancement of the landscape in neighbouring Longford Park. 
A spokesperson for MMU said: "We engage on an almost daily basis with the Friends of Ryebank Fields and have met them and the residents in constructive open forums.
"We have always been committed to working with all interested parties and ensuring they are involved in the development of the proposals. We will ensure we, and any development partner we appoint in the future, continue to abide by that commitment."

NATURE'S FRAGILITY: Friends of Ryebank say recent visits to the site by potential developers have resulted in damage and the death of a hedgehog (image courtesy of Jay Clarke)
MMU recently commissioned a survey of all the trees on the site and confirmed that the fate of the trees is not yet decided as "[a] future developer might think the trees should stay as a feature."
They also reiterated that developers will have to comply with published standards on what trees should be expected to remain. 
The Friends of Ryebank group claim that during recent site investigations a wildlife corridor located above the Nico Ditch (an Anglo-Saxon ditch) was destroyed by chainsaws, which exposed two fox dens and resulted in the death of a hedgehog.
However, MMU deny any mismanagement of the site, stating that all the work on the Nico Ditch met "the professional standard required" and followed guidance issued by ecology experts and the Greater Manchester Archaeological Advisory Service.
Mr Woodcock said: "We hope that MMU spring to their senses and realise the value of nature and biodiversity for future generations and cancel their plans to develop this green site."
While the plans for development at Ryebank Fields are not a done deal, a development framework was approved by Manchester City Council in July 2019.
Main image courtesy of Facebook, with thanks.