Transforming Mayfield Depot into a giant nightclub venue will ruin businesses and bring crime and drugs to Piccadilly, according to an anonymous protest letter calling on Manchester to oppose the plans.
The anonymous letter is being delivered to apartments and businesses throughout the M1 and Piccadilly area.
It warns that turning the derelict venue into a major night life site, used for massive events such as The Warehouse Project (WHP), will damage businesses and increase crime.
The anonymous letters claim state: "We are not here to tell you what to do. We are not here to sensationalise the issue. We simply want to empower your democratic right to have your say in how your city is developed."
Although it was originally announced that the Depot Management Company was granted to accommodate roughly 2,500 people with a view to increase that to a maximum of 7,500, the letter claims the Mayfield Depot will instead be a 7,500-15,000 capacity nightclub.
The letter also claims that the building is structurally unsafe and 'contaminated with dangerous quantities of asbestos'. 
It reads: "A proper report has not been conducted and people's health is at risk." 
However Manchester city centre spokesman Councillor Pat Karney has assured residents that the conditions made for establishing the venue as a nightclub include 'safeguards relating to CCTV, regular consultation with responsible authorities and fire safety'. 
In response to the letter Mayfield Depot Management Company has rubbished some of the claims made by the anonymous letter.
David Norris, director of The Depot Management Company, said: "There has been a lot speculation about the Warehouse Project and whether it is intending to move to the Mayfield Depot. 
"While we would clearly welcome the Warehouse Project to the depot nothing has been agreed with them at this time."
The company have also reminded residents that the maximum capacity for events will be 7,500 people, as originally agreed in the premises licence – rather than 15,000 which the letter suggested.
Mayfield Depot expect to host a wide range of events and not just DJ-led nights, of which licence allows only 25 a year.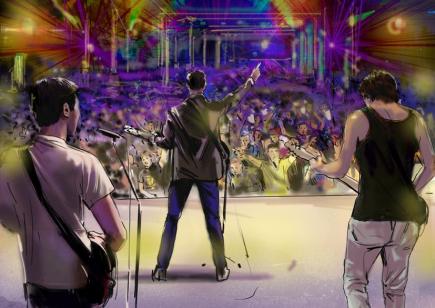 MAD FOR IT: Artist's impression of a concert being held at Mayfield Depot
"The depot could be used to host lots of creative and innovative events around six key areas: arts, food, film, fashion and retail, sport and music," added Mr Norris
"We want to work in collaboration with local, national and international organisations that will embrace Mayfield and rise to the challenge of the building.
"The planning application is due to be heard in March and we hope to hold our first events at Mayfield Depot in summer."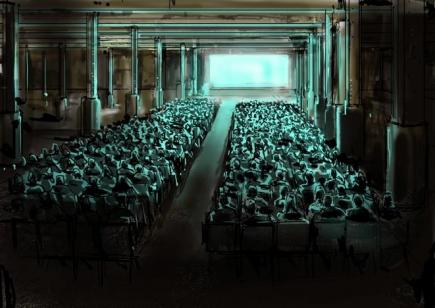 VERSATILE VENUE: Artist's impression of Mayfield Depot being used to screen films
A copy of the letter is located on a Facebook page entitled Parents Say NO to Mayfield WHP although it is unclear whether or not this is the origin.
Their website states: "Let is also be known that in principal we're not against the type of nightclub being proposed. What we are opposed to is the nightclub operating in that particular building, in thatparticular part of the city.
"Privilege in Ibiza, a club that holds 10,000 people is situated over 4 miles outside Ibiza town. A new club in Barcelona, Atlantida, is nearly 5 miles outside the city centre, the council wouldn't have it any other way. The point we're making is that there IS a place for clubs like the one proposed at Mayfield, but that place is NOT the city centre."
The deadline to object to the application has been extended from February 9 until February 11 (tomorrow).
What are your thoughts on the protest? Do you know who is behind the campaign? Let us know here.
Picture courtesy of Manchester International Festival, with thanks.