A primary school teacher from Manchester has gone viral after posting a photo of herself on Facebook to teach pupils about the dangers of the internet.
Hannah Aldridge, a year five teacher at Wistaston Academy in Crewe who lives in Manchester, uploaded the photo on Friday to highlight to her pupils how fast information can travel online as part of Safer Internet Day.
The picture shows herself and another colleague are holding a banner that asks people across the globe to like and share it, while leaving a comment to say where they are from.
By 4pm that day, more than 18,000 people had seen the image, and in just four days it looks set to break the million mark, as thousands from all over the world have left comments and pictures with their locations.
The list of locations is impressive. Sweden, the USA, China and Dubai are just some of the countries where people have commented from.
A woman posted a comment and a picture from her truck in Saudi Arabia – with camels visible on the road in front of her.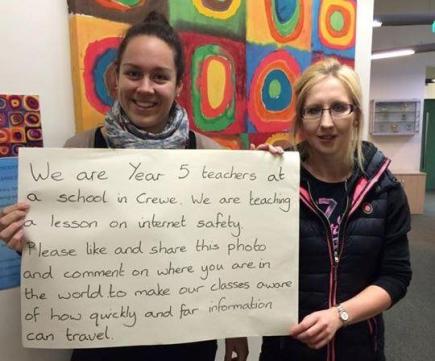 MAKING A POINT: Hannah with fellow teacher Emma Willis holding up the pic that has gone viral
Hannah, 27, told MM: "Because myself and millions of other people use Facebook every day, I just thought this could be a really good way to show my children how dangerous the internet can be, and so I asked one of the other teachers to hold the banner with me.
"I know some people in Australia and I've got family in Canada, so I knew they'd at least share it, but I didn't realise how crazy it would become.
"We posted the picture on Friday, but we didn't tell the children until yesterday, because we wanted to get a few people on it first. And now it's managed to reach about 1.5million people.
"We tracked the countries on Sunday and we had 92, but I think it's gone up since then. The children's reaction was unbelievable. They just couldn't believe it."
Dawn Brown, from Saudi Arabia, wrote: "Salam from Saudi Arabia kids, this is a main highway in the capital city of Riyadh where we live, originally from Alsager.
"I work at the British International school in Riyadh. Internet messages take seconds but it still takes six weeks to get our post, crazy or what??"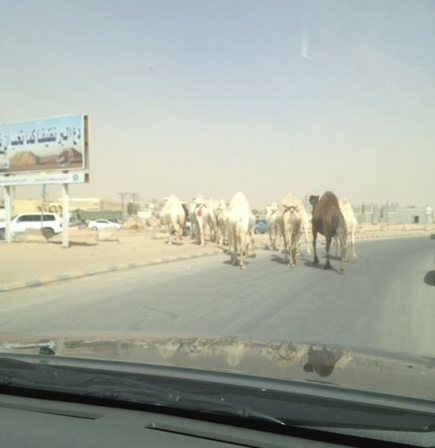 FASTER THAN BY CAMEL: The message has already gone around the globe
A fellow teacher from Australia, Melanie Foxley, said: "G'day from Perth, Australia  

I'm a teacher from Staffordshire teaching Year 5. Great idea for a lesson!"
Nicholas Pitt, a 64-year-old civil engineer who lives with his wife on San Salvador in the Bahamas said: "San Salvador was the (so called) first landfall of Christopher Columbus in the New World on the 12th October 1492. His journey took five weeks. You can make that journey in a second or two on the internet. Regards."
Today is Safer Internet day, which encourages people to 'create a better internet together'.
It is a global event which is celebrated by more than 100 countries and aims to 'promote the safe, responsible and positive use of digital technology for children and young people'. 
Hannah, like many others, is concerned about the vast numbers of children who now use the internet and sites like Facebook, which is what prompted her to post the photograph.
"They shouldn't know about Facebook but they do," she said.
"They are too young, but their parents and siblings have it, and naturally a few children at this school have it as well. But they shouldn't. You have to be 13 to register to Facebook.
"I asked them how they would feel if their parents posted a picture of them online and then this was to happen. I asked them how many people they thought had seen it. There were a few 500s and some said 1000, but when I told them that it was nearly 1million, there was just silence. They could not believe it.
"But they are fascinated by it. They've made internet awareness posters and they want to tell the younger children, which is great.
"They've all gone home and told their parents, and I've had a really positive response from a lot of mums and dads. We've had head teachers contacting the school and saying what a fantastic idea, and other teachers have stolen my picture to show their own classes."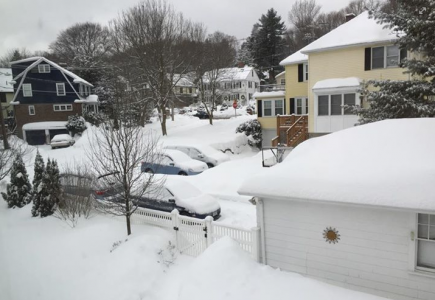 HELLO FROM SNOWY BELMONT: Andy Armstrong from Belmont, n the US, said he saw the post when his mum shared it from Auckland
But despite the positive response, there have been some negative comments, one woman suggesting that it is nothing more than a publicity stunt.
Hannah added: "I don't know why anybody would think that I'd want my face all over the world. The message that we wanted to put across was that these selfies, and what children decide to do these days on their iPads and phones, can be dangerous.
"It's not just as simple as I'll send it to my friend via the internet. We wanted to show them that it's the world web and information can travel and be shared by people that you don't know and who you don't want to be friends with.
"Things can get out of control and lead to embarrassing worries and a lot of upset. This has totally proved our point. Look at how many people in all those counties have seen it."
Hannah is hopeful that as time rolls on and technology continues to evolve, important lessons like this one will make children and adults more aware about the power of the internet.   
She said: "More and more children have phones and they bring them into school. Every child in Key Stage 2 here has an iPad in school, but obviously they contain blocks and they have firewalls in place.
"But we are taking about at home. They come back to school after Christmas and they talk about their new iPad or new iPhone, and they talk about meeting each other on their Xbox, and there is just so much technology now. We need them to really be aware of how dangerous it can be.
"If they aren't on their own phones, they are on their parent's, so it's one or the other. That is why we wanted them to be aware of what can happen."
Every ICT lesson this week at Wistaston Academy will be dedicated to internet safety, and even though awareness week is only once a year, Hannah believes that it should become more regular, considering every child in her class knows what Facebook is.
"We do make sure the children are aware of internet safety and try to keep on top of it," she said.
"You should teach children about internet safety in every lesson. It's highly important. From what I've done in the last few days, my point has been proved that activities on the internet can escalate, and you can lose control of what you yourself have put out there.
"They know a lot about computers for their age, but before we did this, they didn't know as much about it as I would have liked."
Hannah has also urged parents to monitor what their children are doing on the web, and to put the necessary safeguards in place.
"Parents should be just as wary as children," she said. "There are a lot of people that put pictures of their children onto Facebook in their uniforms. Straight away, a stranger would know the school they go to and from that you can work out the location.
"Parents must educate their children on that front and make sure that they are aware of what it can be like. There are so many blocks and different ways to monitor your child's safety on their devices."     
Pics courtesy of Hannah Aldridge and Facebook, with thanks.